Page last updated Tuesday 13 October 2020

Join Cumbria Chess On line Club
here
Grading Conversion
Insert a grade into one of the input fields below:
Old Grading
New Grading

---
13th
October 2020
ECF Membership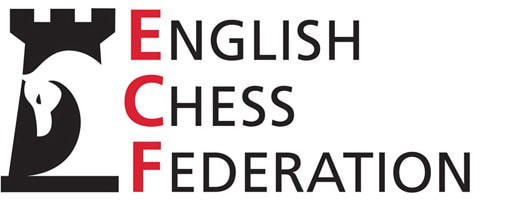 An extract from the recent ECF Newsletter -
Message to members from ECF Chief Executive Mike Truran
I am writing to you to ask for your help in the ECF's hour of need.
Despite members' best efforts so far, however, only 43 percent of members have renewed their subscriptions. We will face serious financial difficulties and potential damage to our infrastructure if the current crisis extends too far into 2021 without sufficient membership income to sustain a cost base that we have already stripped back as far as we feel able.
NB - You can check your own status as well as your club members by looking at the Clubs Page and clicking on the 'Club' ECF Grades link.
---
30th
September 2020
ECF Grades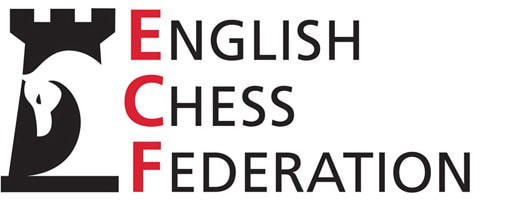 I am sure that you are now aware that the new style ECF grades are with us.

Please note that these will be updated every month, so Andy will need results from both internal Club games and Cumbria games as soon as they happen.
See
ECF Grading page
for the new grades. The old grades can still be seen here
ECF Grading page
.
The
Clubs Page
has a link to the new grades for each club.
There is a rating faq page
here
.

Cumbria will be using these new grades for both League and Whitaker assuming we ever play again.

I am working on a new Whitaker form even as we speak, and there will be a few minor alterations to our Constitution. I am not panicking about it just yet !
---
20th August
2020
Ian Mackay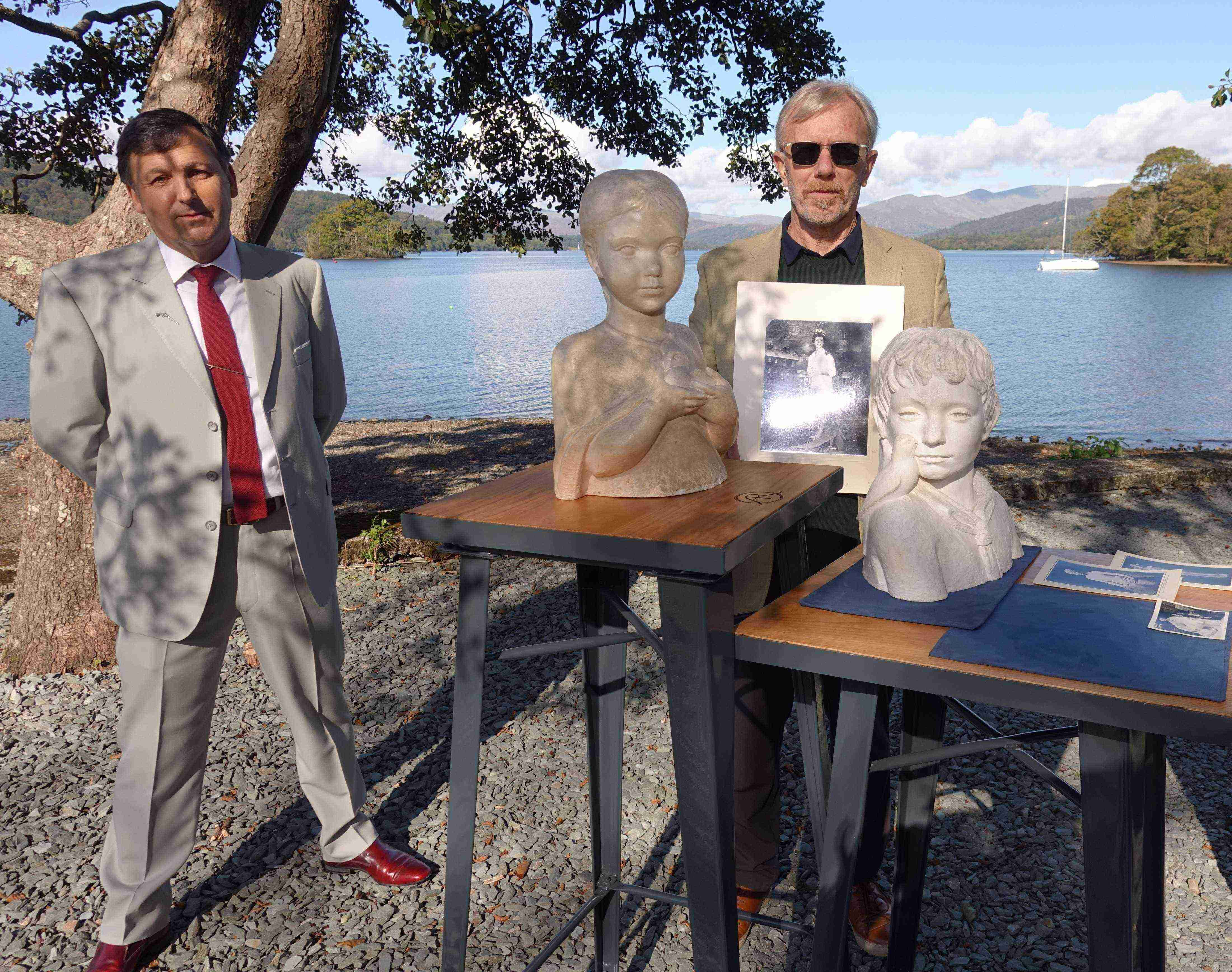 It is with some regret that I have to inform you that Ian Mackay has retired from professional chess (he later admitted that he wasn't really earning a great deal from it).
He is to enter into the more profitable world of Antiques and is seen here at the Antique Road Show, Windermere on September 29th. Ian is the one with the busts.
---
7th
September 2020
Cumbria Online Chess Club

Cumbria Online Chess Club currently has 57 members.
At the moment there are 2 tournaments every week -
1) The Saturday morning dash.
5 minute games played from 11 to 12 am.
2) The Midweek Arena.
Varying time controls usually about 10 mins, sometimes with increments. Played Wednesday 7 to 9 pm.
Both are Arena tournaments which make it extremely easy to join and play. You simply click on the supplied link, click Join Tournament, and that is it ! You just sit and wait and your game starts automatically. After the game you can go and pour yourself a drink and click Next Game when you are ready to play. You can join after the start of the tournament and/or leave before the end. It doesn't matter. You are not letting anybody down. It is all quite relaxed really, and it is good to play a few games with people you know from Cumbria Chess.

There are also Daily games, which are similar to Postal Chess so you get a lot of thinking time. It is proving popular.
---
1st
September 2020
Barrow Chess Club Restarted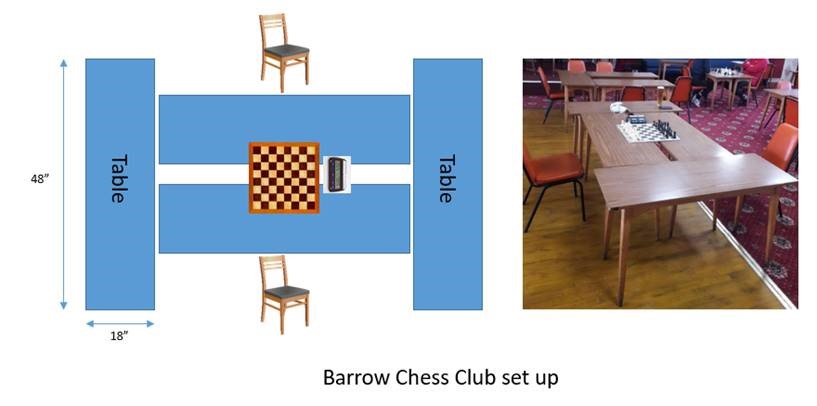 Notes from Dave Cole on the Barrow setup -
The circumstances being, the British Legion only opened a couple of weeks ago and we found out the large concert room we use for chess is available once more and the players set up 'distanced boards'.
So conditions in the chess room are as follows:
Hand Sanitiser is available in two areas of the room (the club has put them on the wall). We are encouraged to use this when passing.
We have a sanitiser spray for the sets which is used when taken out the box and set up.
The tables are set up in a square for distancing – so we have a room big enough to use 4 tables per game.
The main tables also have a gap which increases distancing (covers 2/3 squares of the chess board @ 2" per sq) which is 4-6" and the clock sits over the gap (this is a good guide) so it is stable on both tables.
Clocks are roughly 6-8" in length depending on analogue or digital – set up to suit in between the gap.
The distance is therefore roughly 1.5m between players. Players can adjust their seats to be further away if they wish.
Boards need to be wooden or cardboard based to have the gap – roll up boards will not be able to have a gap.
The tables on either side encourage distancing and stop spectators coming too close.
Spectators can view from behind each player but are encouraged not to.
No masks are warn, but it's an option if players want to.
The conditions are near enough back to playing conditions we are familiar with and as the 'new normal' it is really not much different from before.
---
23rd
August 2020
ECF North v South Challenge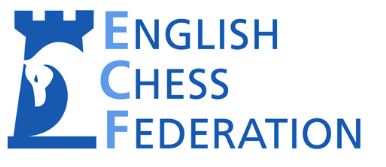 Email from Mick Riding ( Northumberland Team Captain ) and Andy -

On September 5 we have the opportunity to take part in a historic rematch between North and South, the first since 1894.


To join just click on https://www.chess.com/club/ecf-north

For the background stuff go to https://www.englishchess.org.uk/online-north-v-south-challenge-2020/

The occasion is about participating. Of course it's nice if you're a 200+ ECF player, but us lesser mortals need not worry. The match will look to pair people up as closely as possible to their playing strength - so there's room for all.

On the back of our stand out efforts in the County, Pool and U100 matches this would be a big fat cherry on the cake. And The North has never won this challenge. Time to put that right yes? 🙂

The only prerequisite is ECF membership. Be aware most expire end August. So if you haven't renewed please do - or at least sign up as a Supporter (£10) which can later be upgraded to membership - and your £10 will counts towards membership.

Thank you - Mick (mickriding@hotmail.co.uk)

Note -

Whether or not you play in the above as the email says ECF membership expires at the end of August. You can join/renew here -

https://www.englishchess.org.uk/ecf-membership-2020-21/
---
20th August

2020

2020 AGM - Note from Jonathan

Dear Chess Club Secretaries and Officers,

At the time of year when preparations for the new playing season would normally be underway, the Cumbria Chess Association Committee have been reviewing the likelihood of being able to resume over the board chess in the near future.



Given that most club premises remain closed because of the virus, there is no possibility of commencing competitive chess in the near future even if club members are prepared to play. Commencement of the 2020-21 season is therefore delayed until further notice.

The Committee has considered a number of options such as the holding of a 'distanced' AGM, or completing the 2019-20 season on-line, but have decided that, unless there is a groundswell in favour, these will remain in abeyance.

The Committee would appreciate views from all clubs as to what they think should happen. Clubs should let the League Controller know if and when their premises are usable and their members are willing and able to play over the board chess in a safe way.

The Cumbria Chess Website will keep players updated on any developments with relevant guidance from the Government and the ECF.

In the meantime Cumbria on-line chess will continue and all those who are able to do so are encouraged to join in.


Best wishes and keep safe everyone.

Jonathan Rashleigh

Secretary - Cumbria Chess Association

---
8th
August 2020
Cumbria lost last night (Saturday) to Oxfordshire in the semi-final.
See the
CountyChess Page
.
---
1st
August 2020
Cumbria drew last night (Saturday) with Somerset 6-6 in a rematch of the first round which was abandoned, and lead the Table.

See the
CountyChess Page
.
---
1st August
2020
Note from Dave Cole -
It is with sadness to notify the demise of Derek Miller this week, a Barrow Chess Club player that some of you will know especially those in the South League.
A tribute to him is on the Barrow Club site and also here.
Thanks,
Dave

---
26th July
2020
Cumbria Chess
Swiss Tournament.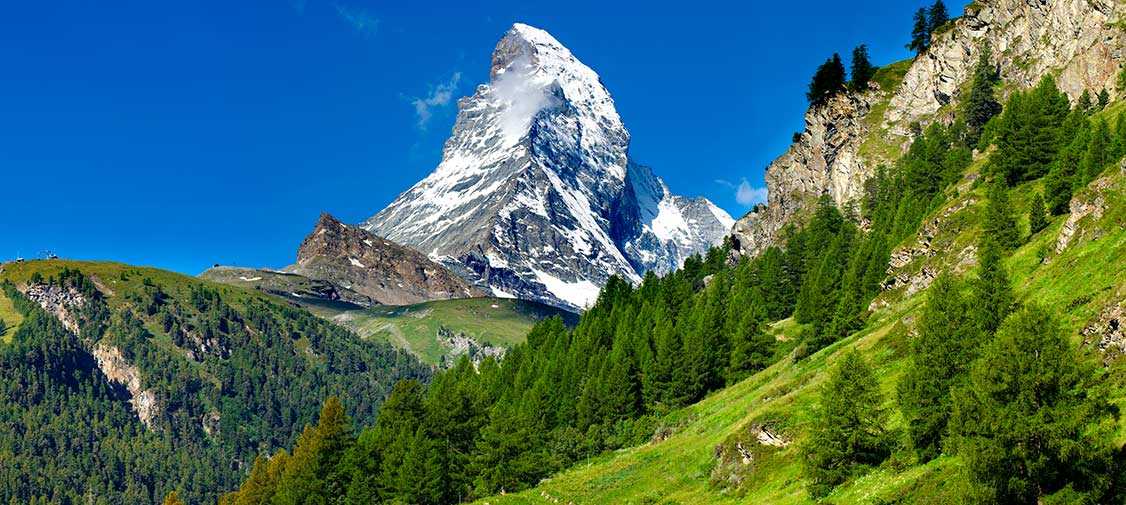 There is a 5 round swiss tournament on Wednesday evening 29th July at 7:00pm.
Time limit is 10 mins + 5 secs a move increment.
No gradings apart from the ones on Chess.com.
Players need to be members of the Cumbria Chess Association Online Chess Club on Chess.com.
Similar to the Saturday Morning 5 minute tournaments. Just click on the Link - https://www.chess.com/live#t=1354875 - click JOIN on the tournament page and everything is taken care of by Chess.com. Your game starts automatically - easy ! As is it a Swiss rounds cannot begin until the previous round has finished, so if you have a quick game you will have to wait till everybody is finished.
Assume each round lasts for a half hour then the tournament should end about 9:30.
In line with current Government policy - not at all scientific, I should add, it is recommended that you wear a mask while playing.

---
26th July 2020


July 2020 Grades

If anybody is interested in ECF over the board grades the July ones are now on the
ECF Grading page
.
The Top 10 grades
| | | |
| --- | --- | --- |
| Name | Club | Grade |
| Robin Moss | Keswick | 210 |
| Matthew Mackenzie | Barrow | 191 |
| Roy Ellames | Carlisle Austin Friars | 183 |
| Dave Phillips | Windermere | 182 |
| Alex J. Billings | Windermere | 178 |
| Jacob McAtear | Penrith | 178 |
| Holden Davis | Penrith | 174 |
| Neil Maxwell | Keswick | 173 |
| Stavros Karampatos | Carlisle Austin Friars | 171 |
| Dave Cole | Barrow | 166 |
Congratulations to Robin on leading the table ( again ) !
---
22nd
July 2020
Cumbria First Online Swiss Tournament
The First Cumbria Online Swiss Tournament has just finished with Neil Jones taking first place.
Well played Neil !
See the full result on the
Cumbria Online Swiss Page
.
---
19th
July 2020
Cumbria drew last night (Saturday) with Shropshire 7-7, but still lead the Table.

See the
CountyChess Page
.
---
10th
July 2020
Chess clubs and Covid-19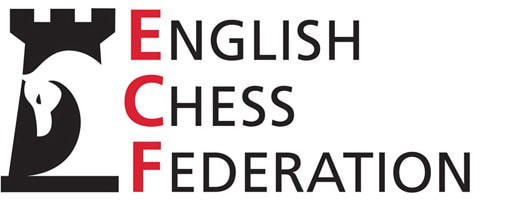 The ECF has just done an interesting article on Chess Clubs opening. It may be a little early yet, but things are stirring ! It was interesting to see the suggestion of playing with 2 boards - one each. Just like Syd !
Here is the link
ECF and Covid
. Make sure you click on their Word | Pdf link to read the article.
---
7th
July 2020
Cumbria beat Worcestershire 7½-6½ in the 3rd round of the Counties Championship. See the
CountyChess Page
.
---
22nd June 2020
Julio
Calcina v
Alan Llewellyn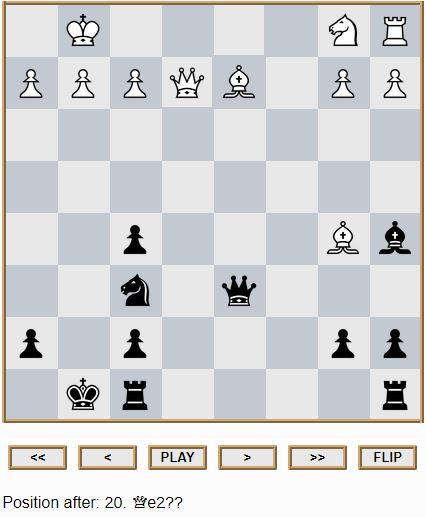 Andy has posted a game from the recent County match games
here
.
---
21st
June 2020
Cumbria beat Hampshire 10-2 in the 2nd round of the Counties Championship.
Well played Cumbria !
Read Andy's report on the
CountyChess Page
.
---
18th June
2020
1st Cumbria Chess online
5
round Swiss Tournament.
Cumbria Online Swiss Tournament Page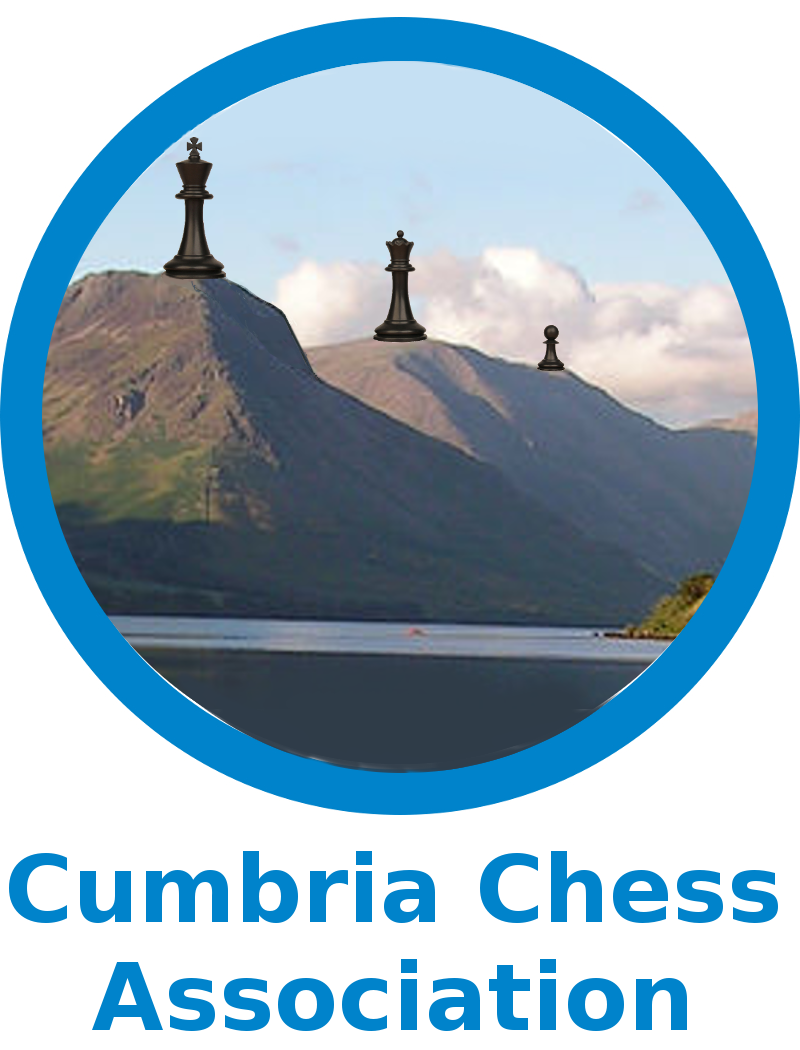 If the ECF can run a competition so can I !
I am running a 5 round swiss tournament on Wednesday evenings at 7:30pm for 5 weeks with one round per week. Each round has two games between players, alternate colours, a half-hour per person per game.
I will maintain a list of winners on the Website. Just imagine in a 100 years time your name will still be there !
If you really cannot play on Wednesdays at 7:30 then your opponent may take sympathy and play another time with a deadline of midnight the following Monday. However if they like 7:30 Wednesday then that is it.
To enter please just let me ( Dave Shaw ) know ASAP. Hopefully we can start Wednesday 24th June but we will see.
---
17th June
2020
ECF Online Chess.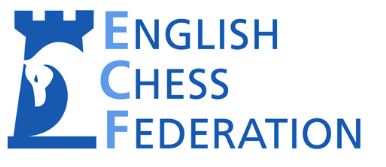 Due to the Coronavirus pandemic, all over-the-board chess came to a standstill when the lockdown was imposed. This inevitably lead to a surge in online chess and so the ECF organised online chess competitions. See their webpage
here
.
So far 2 competitions have been organised.
English Online Blitz

– The English Online Blitz Championships 2020 was held on

chess.com

with a group stage on 9th May and the finals on 16th May.
English Counties

– The English Counties Championships start in earnest on 13th June on chess.com following a preliminary familiarisation held on Saturday 6th June.
Further details for these can be seen
here
.
Cumbria chess is involved in the English Counties
Championships
. Details can be seen on the
CountyChess page
. If you are interested in playing contact Andy.
---
19th May 2020
The Unfinished Season.
It is about this time of year that we are usually considering the date of the Cumbria Chess AGM. Obviously it is not going to happen until we receive some positive news and guidance from the Government.
It is hoped that we can finish the important games from last season.
The Whitaker final between Penrith and Ulverston.
Penrith A only need a good result against Windermere to claim the Open League.
I am not sure about the South League.
Perhaps these games could be played in August, but I fear that may be optimistic. Whatever happens I am sure we can get these games played as we start a new season.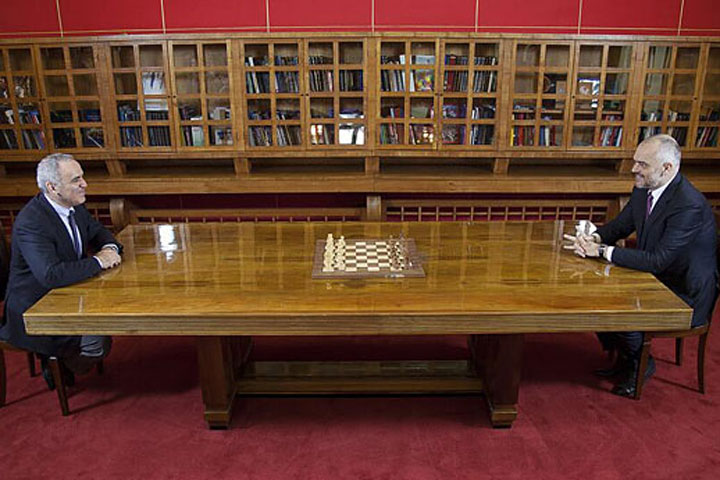 We may need to find some large tables when we start again.
---
2nd
May 2020
Email from Andy -
Hello chaps,
Could you please circulate this to all your members and ask them to contact me if they're interested in playing in this. All the details aren't finalized yet but you'll get the picture if you read the attached PDF file.
Many thanks......Andy.
---
11th
April 2020
Cumbria Online Chess Club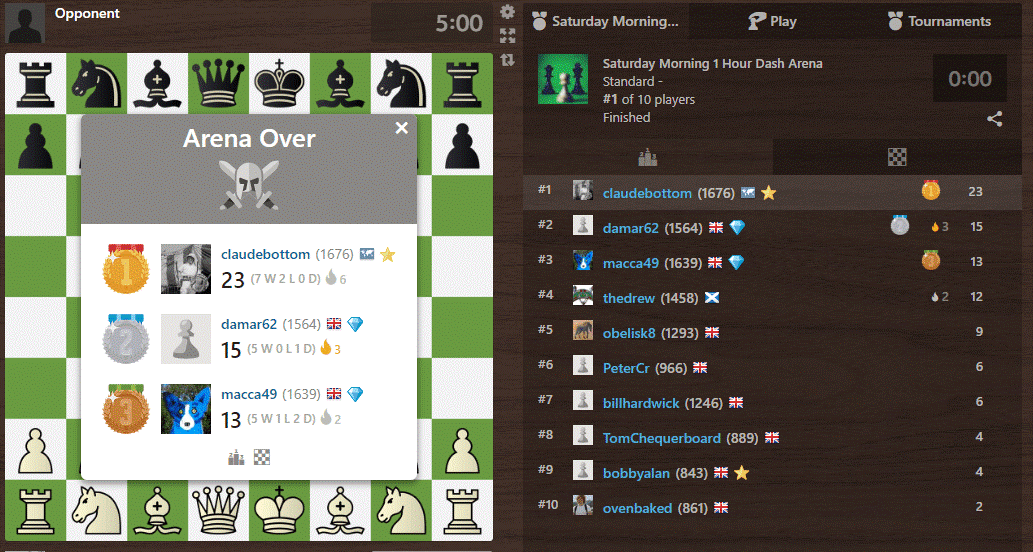 The first 11am Saturday morning tournament took place with 10 entries, which made for an entertaining competition. Hopefully we can build upon this and more turn out across Cumbria (and beyond!) for future Saturday mornings.
Thanks to all who participated,
To request registration for Cumbria Online Chess Club:
https://www.chess.com/club/cumbria-chess-association
Regards,
John
---