Page last updated Tuesday 19 April 2020

---
20th May 2023
South Lakes Congress 2023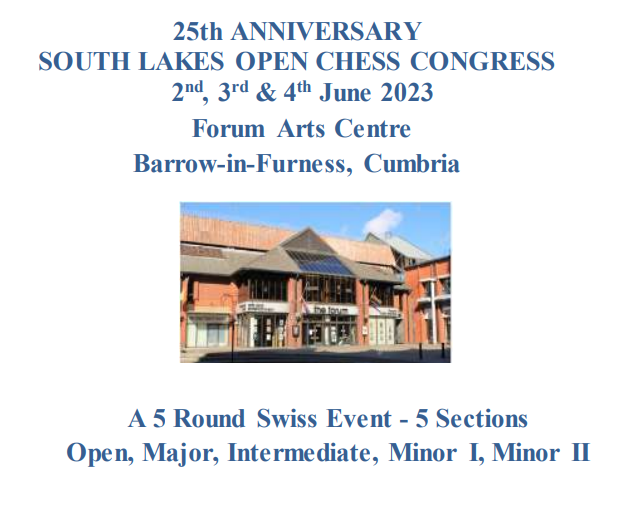 The 25th South Lakes Congress will take place on the 2nd,3rd, & 4th June 2023.
Details and Entry Form are
here
.
---
14th May 2023
Grange Chess Club
A note from Hilary Austin -
As Grange Chess Club no longer meets, I am wondering what to do with the equipment and book library.
If you have need of anything, or have any ideas please contact Hilary on

---
18
th
April 2023


Cumbria Individuals 2023







Higgins Castle Trophy
to Greg Millar







Keswick Knight Trophy
to Trevor Blower

Bob Greenhalgh Trophy
to Calvin Smith

---
18
th
April 2023


Cumbria Individuals 2023


A few pictures from Eggert

---
11th April 2023
Keith Arkell Simultaneous Exhibition Maryport
.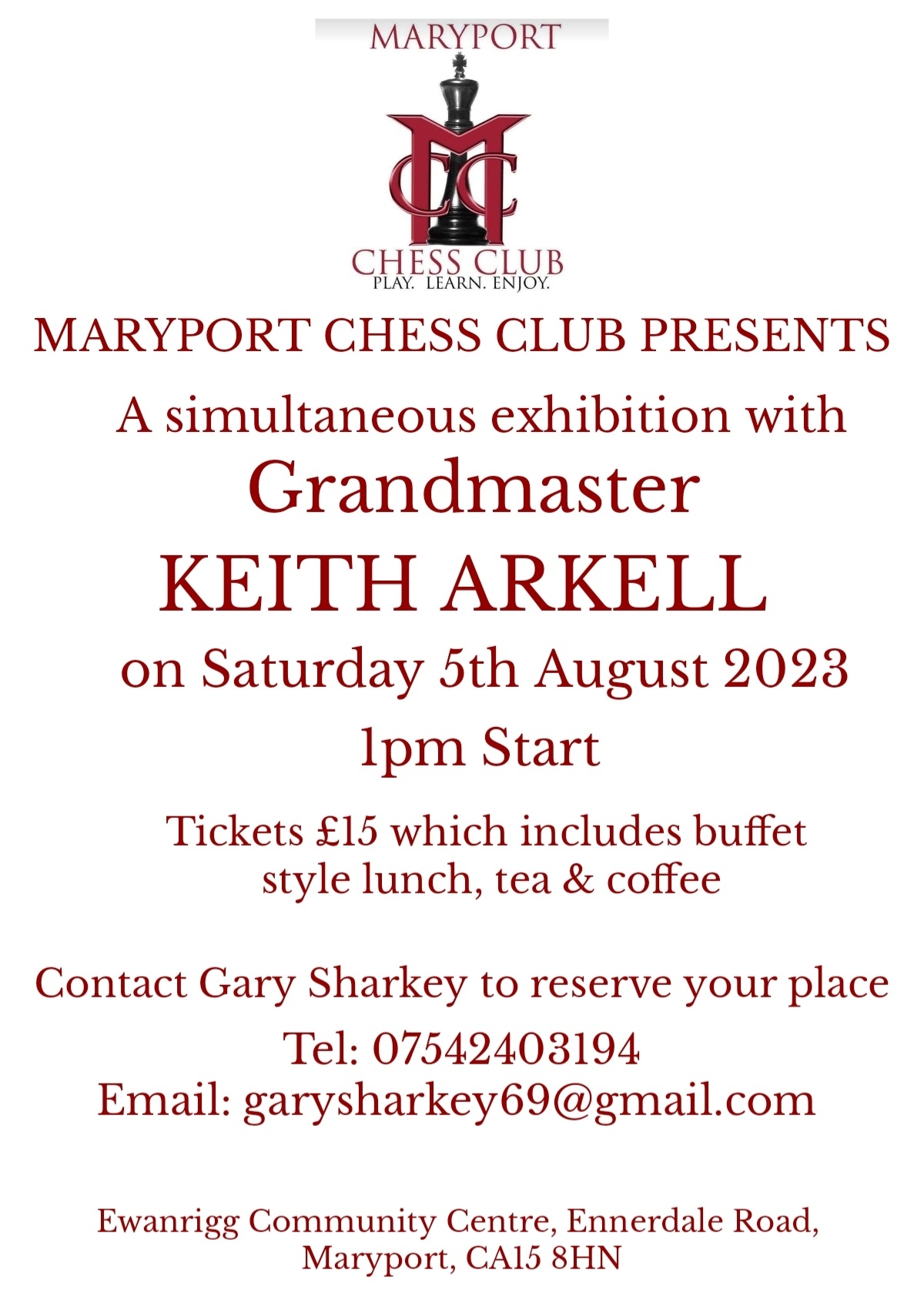 Saturday 5th August.
Contact Gary Sharkey.
---
11th April 2023
Ulverston 30 minute rapidplay Sat 17th June 2023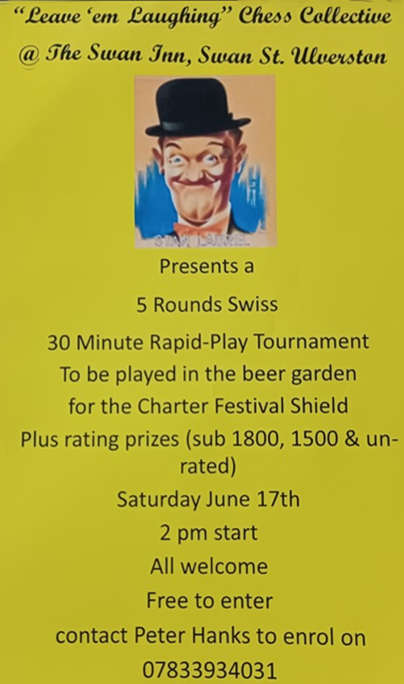 Please contact Peter Hanks for further details.
---
1st
April 2023

Cumbria Individuals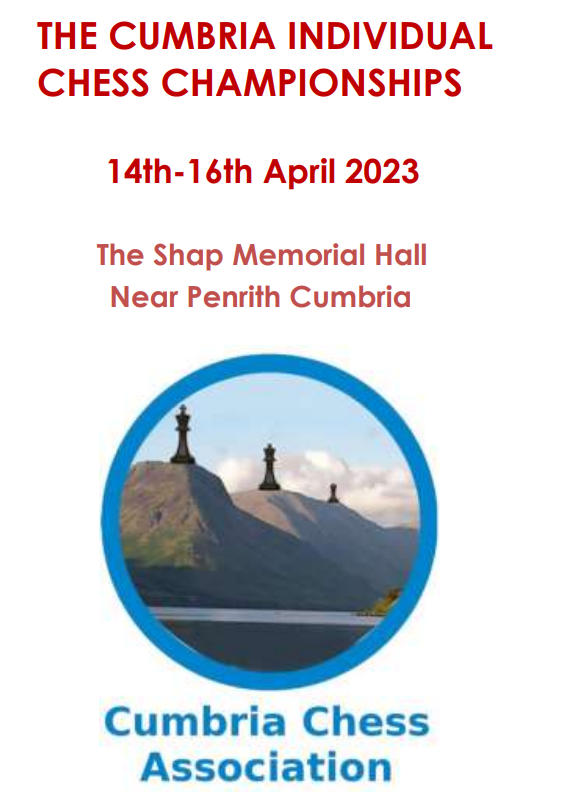 The Cumbria Individuals will be held from the 14th to the 16th April.
All the details can be seen here.
---
27th
March 2023


Long Marton School Chess Tournament 2023
A report from .
John Lydon -



Long Marton Community School has been hosting an annual School's Chess Tournament for many years now.

I attended the 2023 Tournament on behalf of Cumbria Chess Association to support the event and help with the running of it.

The morning was a Chess Workshop to help the children improve their game.




The Tournament itself took place in the afternoon.

80 children from 12 Schools participated.

The geographic spread of the schools was huge with teams from Shap, Hayton, Penruddok, Kirkby Stephen, Patterdale, Warcop, Bolton, Brough, Temple Sowerby, Morland, Long Marton and Kirkby Thore all competing.

The individual winner was from Kirkby Thore and the runner up was from Temple Sowerby.




The winning team was from Kirkby Stephen with the runners up from Patterdale. Hayton and Warcop finished joint 3rd.

The pics show:

The tournament taking place

John Davis (Long Marton Teacher and organizer of this event) presenting one of the certificates.

The winning Kirkby Stephen team with their teacher.
---
24
th March 2023
Whitaker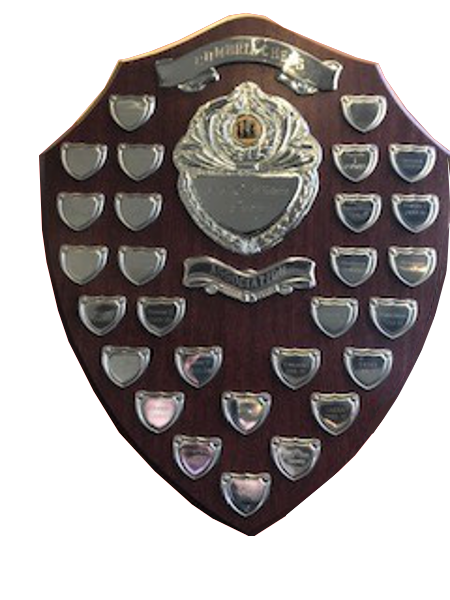 Congratulations to Carlisle B who beat Carlisle A in a very close final.
Results on the Whitaker Page
---
9th
March 2023
Open League 2022-23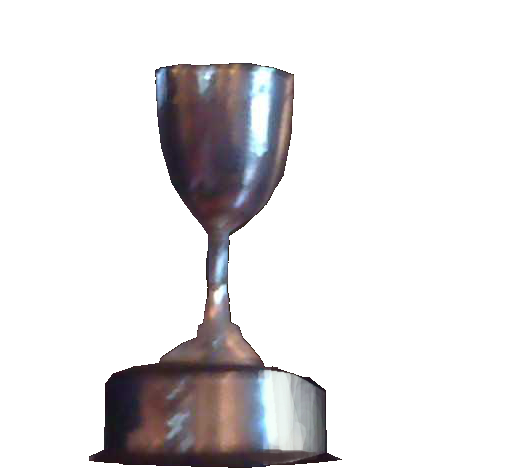 Well, the Open League has almost finished and Penrith have won the league. Well done Andy & co !
---
12th February 2023
NCCU Under 1850 - Greater Manchester v Cumbria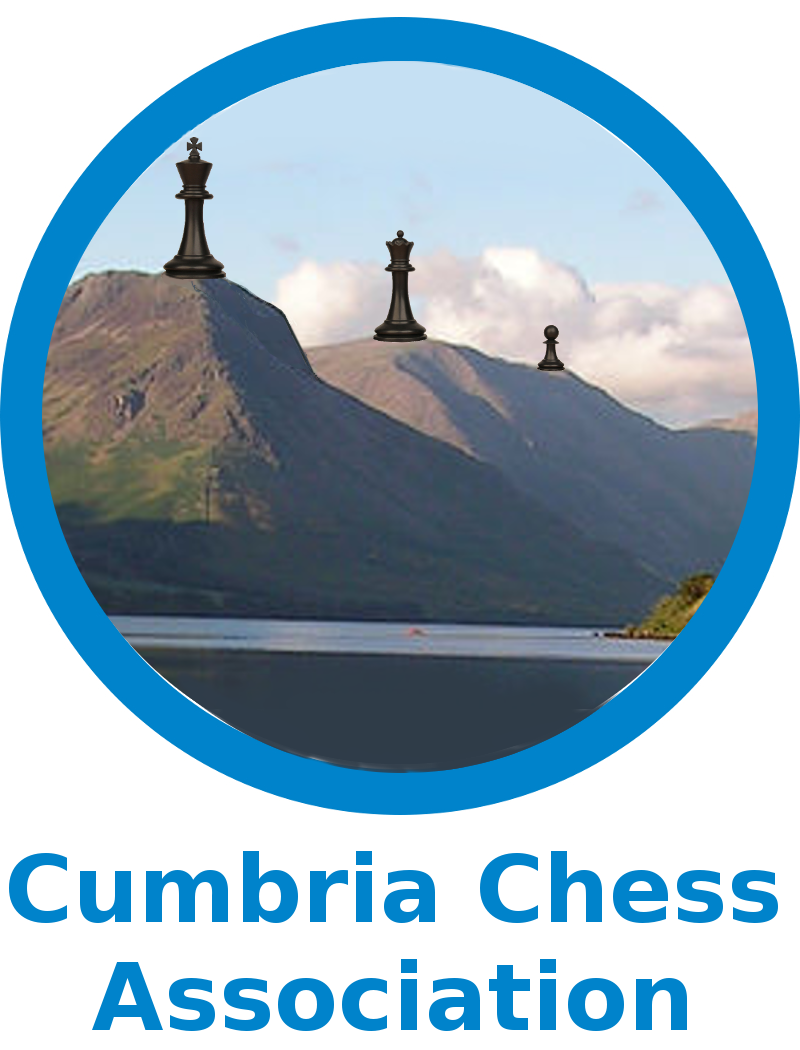 Greater Manchester beat Cumbria in the under 1850 match on Saturday..
Hello everyone,
I'd just like to thank you all for competing for Cumbria in this season's county matches.
We lost to Greater Manchester yesterday when many of the results seemed to go against the run of play. We did, however, manage two wins by Jonathan Rashleigh and Tim Lounds of Kendal CC and draws from Alan Llewellyn (Barrow), Neil Foxcroft (Ulverston) and Greg Millar (Maryport) who was undefeated in all three matches.

I've attached an image of yesterday's match score sheet.
Thanks again and I look forward to seeing you all again next season.
...............Andy.
---
1st February 2023
NCCU Under 1850 - Yorkshire v Cumbria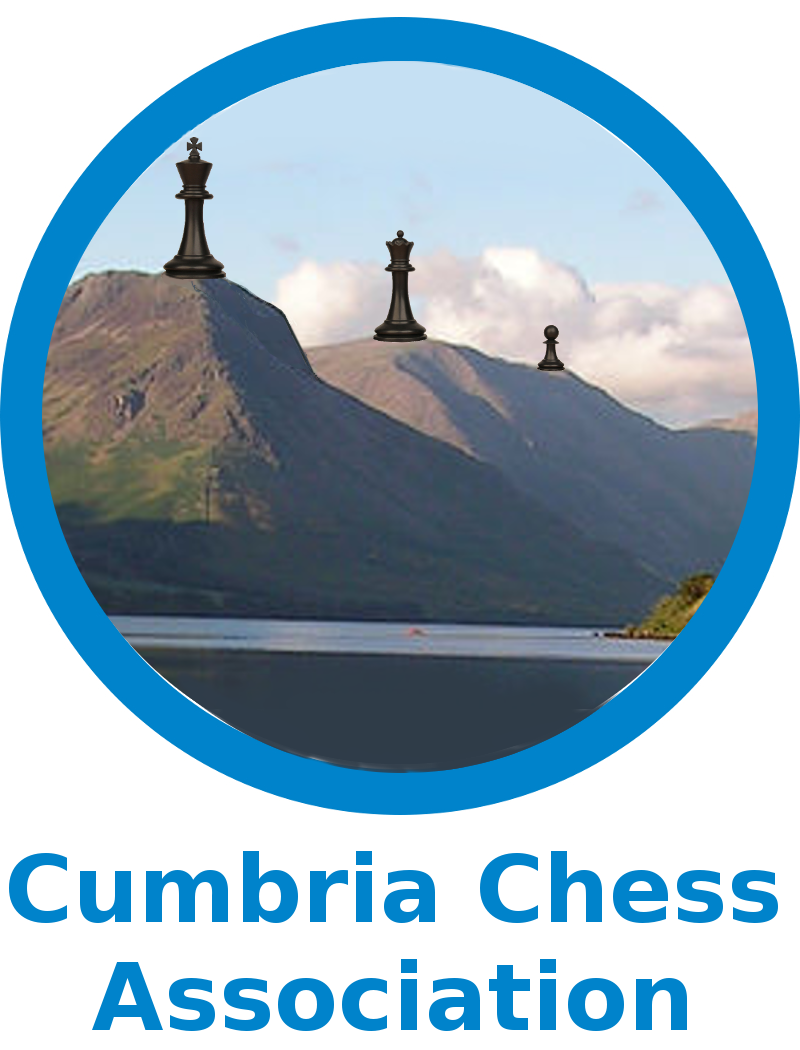 Yorkshire beat Cumbria in the under 1850 match on Sunday.
Hello chaps,

I've attached the result sheet in case you're interested.

It's always a tough ask to expect a win against Yorkshire but, on
Sunday, they had an exceptionally strong team. Our average rating was
1694 to their 1788 so we, our lower boards in particular, were really up
against it and sadly, the result reflects this.

On the bright side, we can't do much worse against Greater Manchester on
the 11th 😁

Thanks to everyone for playing and thus making the match possible.
..............Andy.

---
28th January 2023
Durham Chess Congress 2023

Durham Chess Congress will take place on the 12th -14th May.
You can see details at
https://durhamchesscongress.co.uk/
Also on this
PDF file
.
---
16th
January 2023

Cumbria Individuals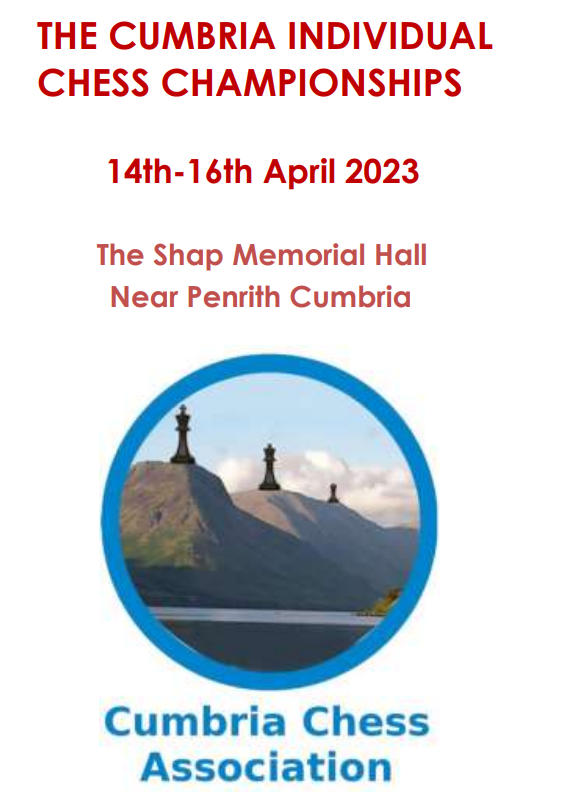 The Cumbria Individuals will be held from the 14th to the 16th April.
All the details can be seen here.
---
9
th
January 2023
Penrith Web Site


Penrith have a new web site.
Penrith Chess Club
.
Nice.
---
12th December 2022
Chess Clocks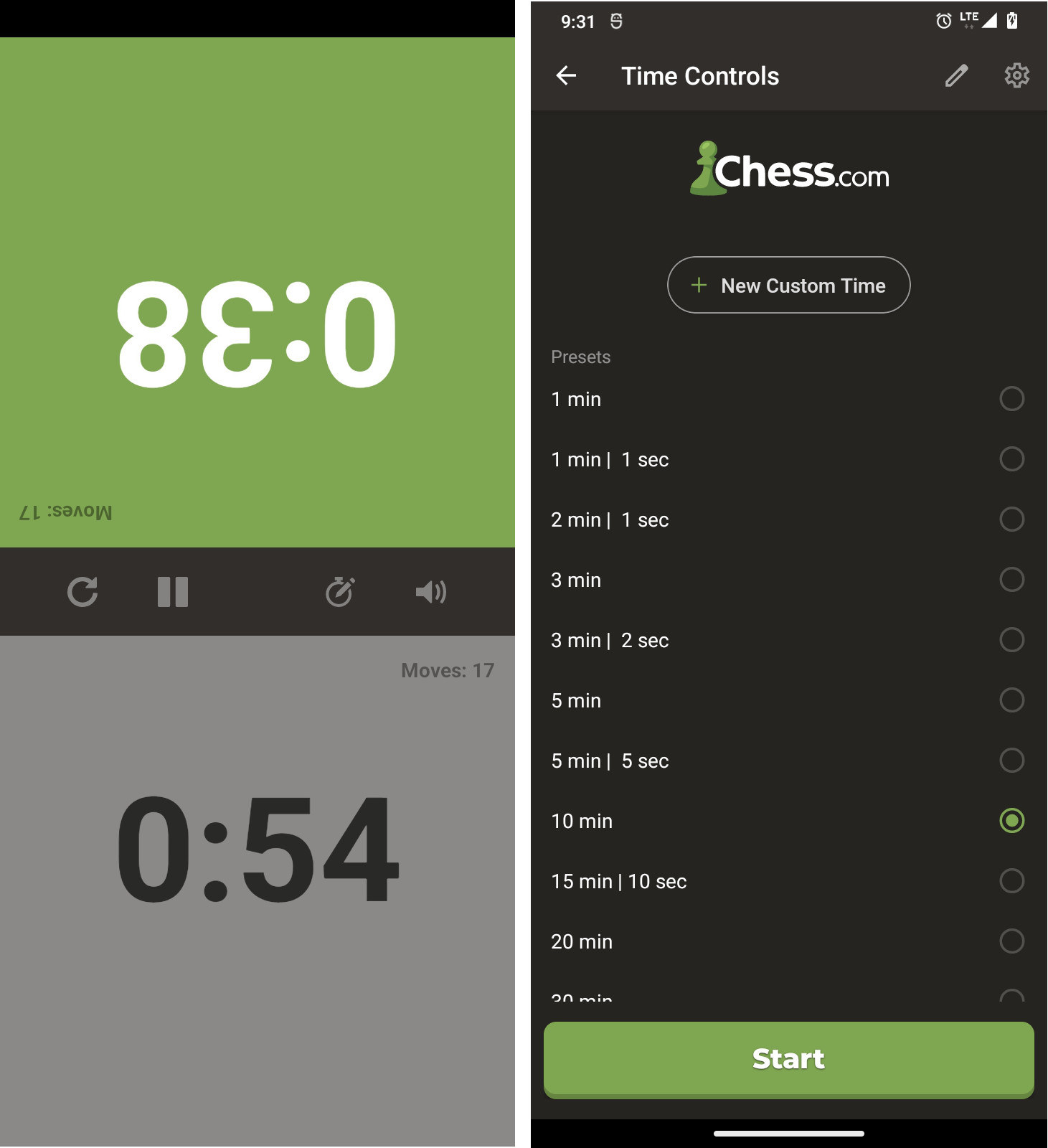 I think this free app might prove useful. It has all the functionality of a normal chess clock with increments etc. and is easy to setup. I guess the only thing is that your opponents time is upside down. Still, it might save a bit of cash. Still time to change your Christmas present list !
You can get it on Android and iOS.
---
12th December 2022
South Lakes Congress 2023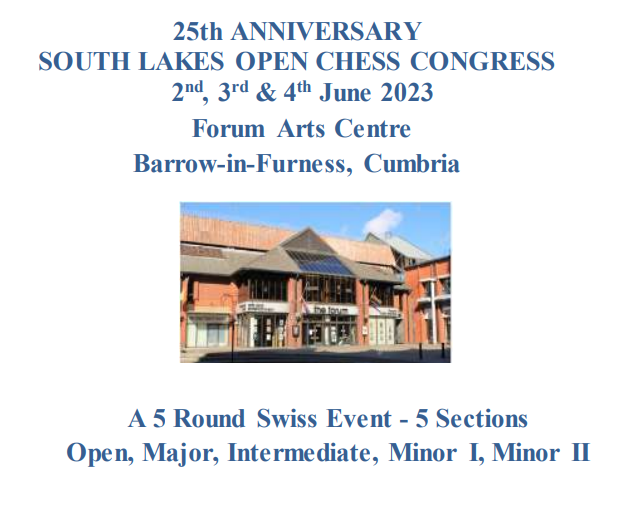 The 25th South Lakes Congress will take place on the 2nd,3rd, & 4th June 2023.
Details and Entry Form are
here
.
---
11
th
December 2022
Fixtures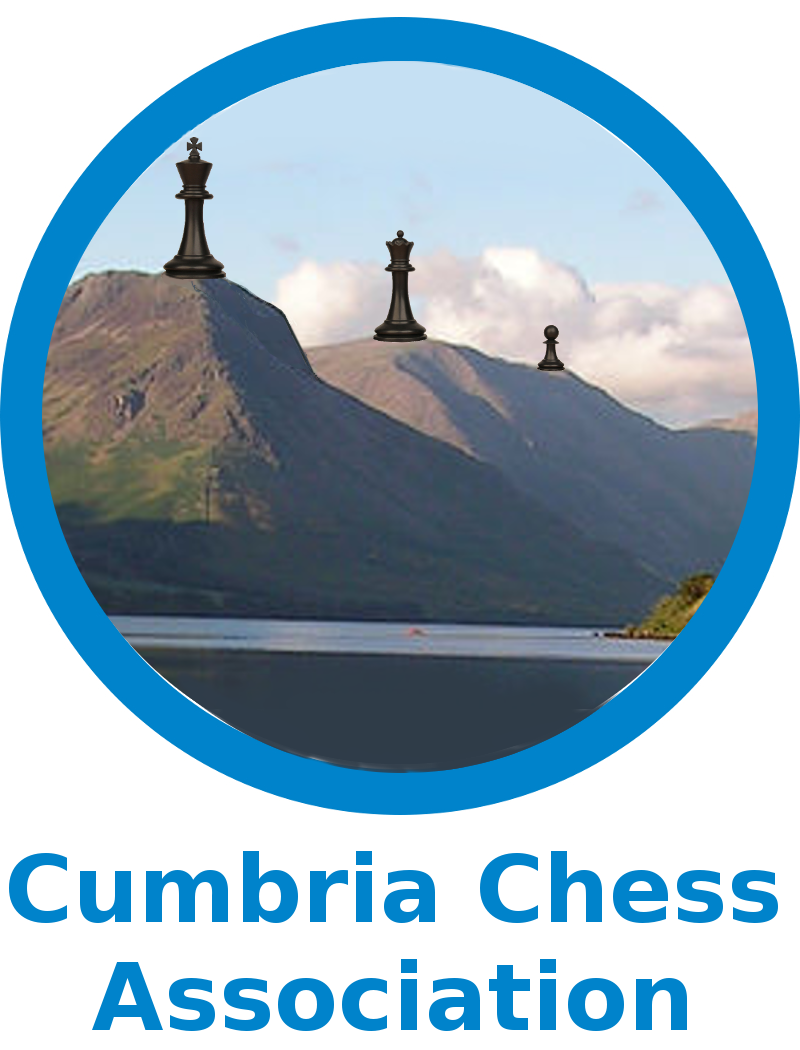 I have added a play by date to the
fixtures
to try to make it a little simpler.
---
6th
December 2022

Lancaster Rapidplay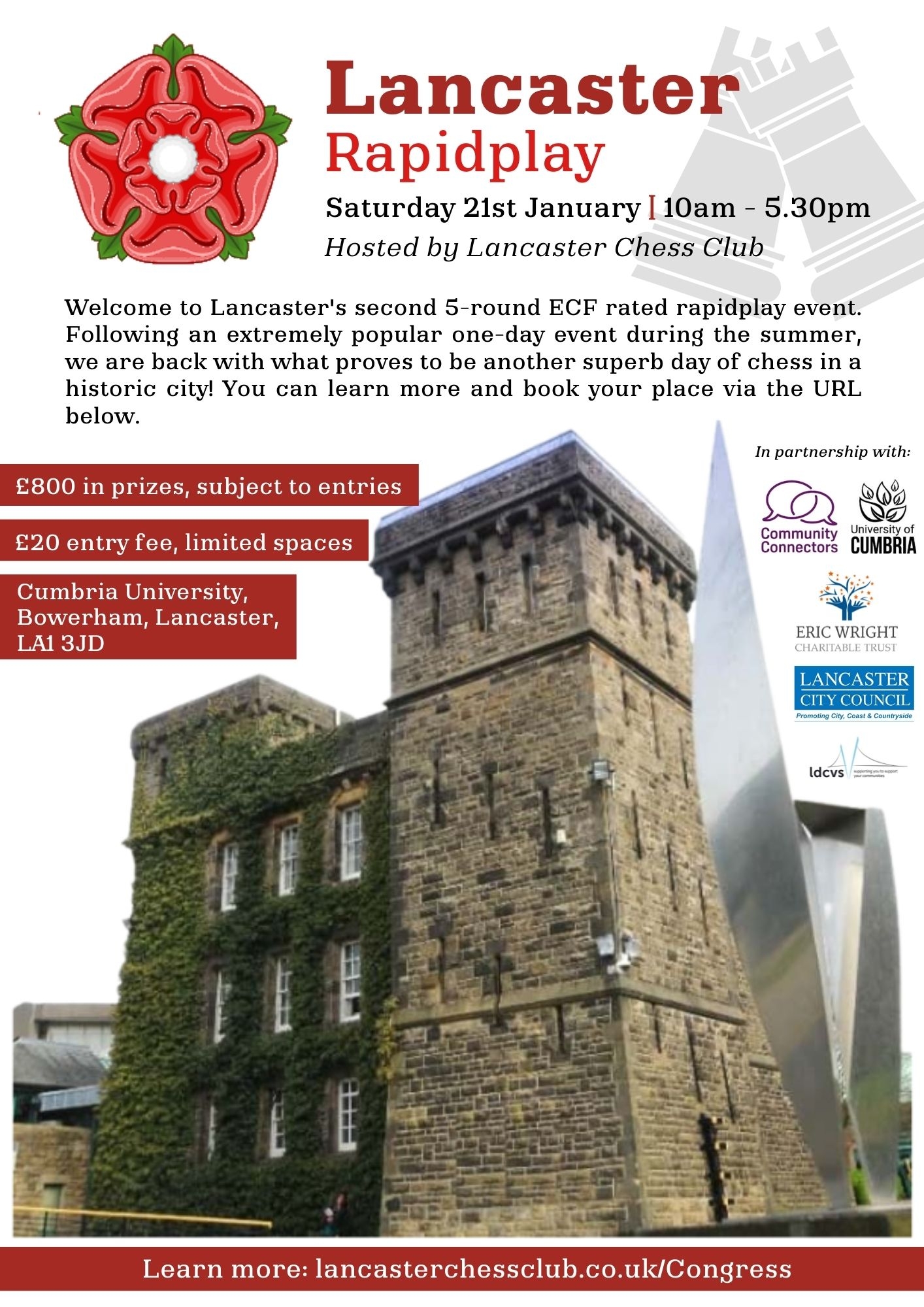 There is a one day Rapidplay at Lancaster on Saturday 21st January.
All the details can be seen here.
---
4th
December 2022
NCCU Under 1850 - Cumbria v Merseyside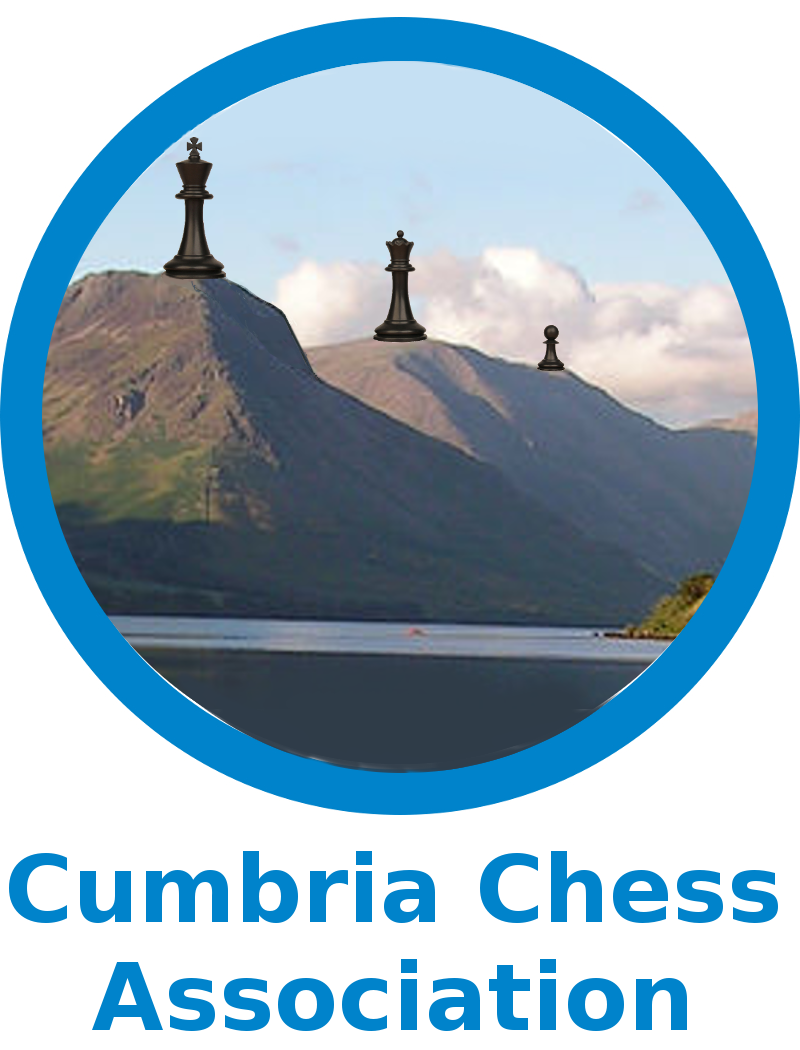 Cumbria beat Merseysie 8-4 at Penrith yesterday. The full result is on the
CountyChess Page
.
Link to the
ECF Page
---
24th October
2022

Cumbria Team Rapidplay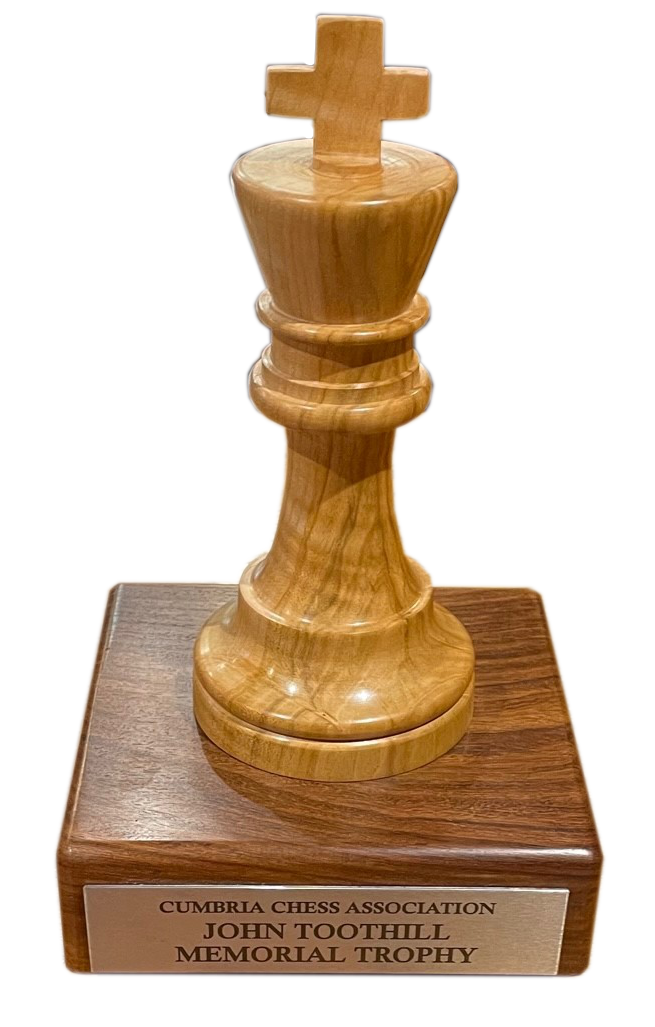 The rather nice trophy that Hanksy had made for the Team Rapidplay
---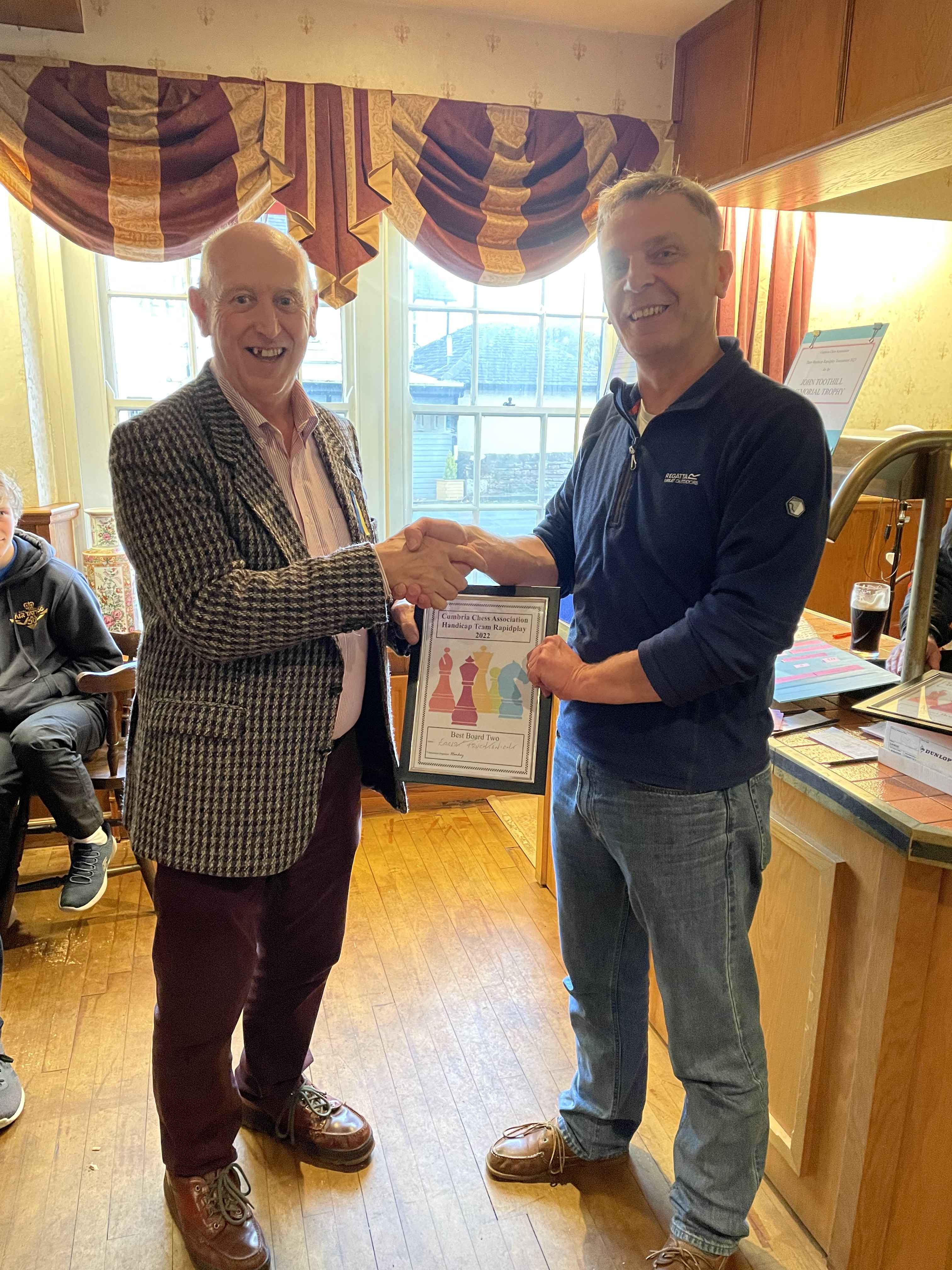 A report from Andy
Despite, or perhaps because of, the early announcement of the event, only 3 clubs participated this year. Fortunately, both Maryport and Penrith had entered two teams. Maryport, however, arrived a player short but as Ulverston had an extra player, Peter Caulfield was allowed to transfer to Maryport from Ulverston for a fee that Peter Hanks and Gary Sharkey have yet to agree upon.
So the competition got under way, about 20 minutes late, with just five teams which, as it happened, meant there was a bye in each round giving everyone an hour off to get some grub, which would not have happened if there was an even number. There were a couple of faces that I didn't recognise, Steven Sheppard from Maryport and the youngest player in the competition, Oliver Yeardon from Ulverston.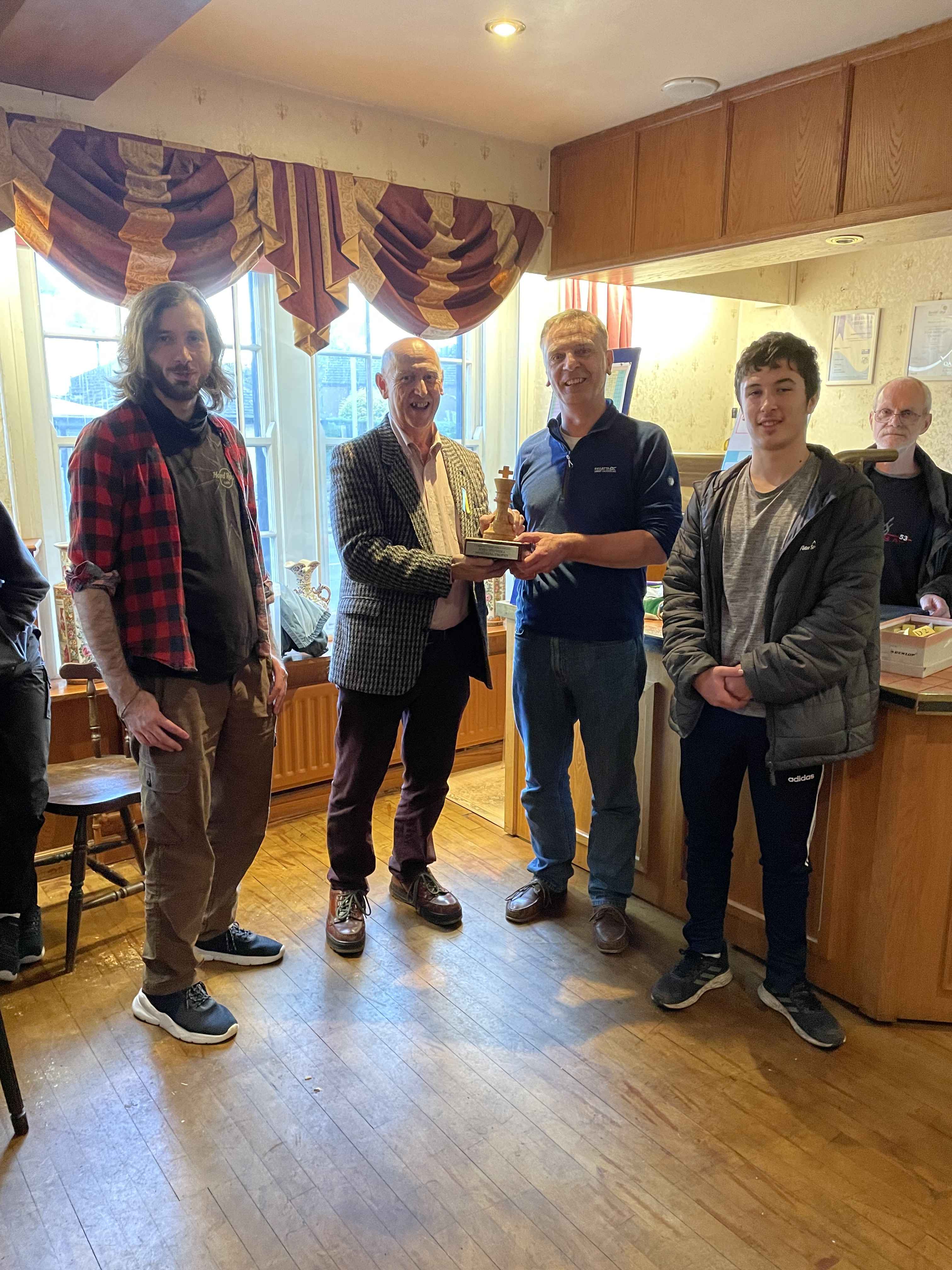 After five tough rounds, Crown Princes, consisting of Lewis McAtear, Eggert Fruchtenicht and Andrei Carp, emerged victorious after winning all their matches and clearly outshone Crown Jewels, consisting of the two highest rated players, Holden Davis and Dennis Hale along with Dave Hood, who sportingly agreed to make up the team despite being the first to admit that he cannot play fast games.
The marvelous Cumbria Team Rapidplay Trophy, lovingly created by Peter Hanks, was presented to Princes team captain, Eggert Fruchtenicht. There were also framed awards for the best player on each board; Board 1 award went to Holden Davis of Crown Jewels; Board 2 award went to Eggert Fruchtenicht of Crown Princes and Board 3 award went to Steven Sheppard of Maryport B.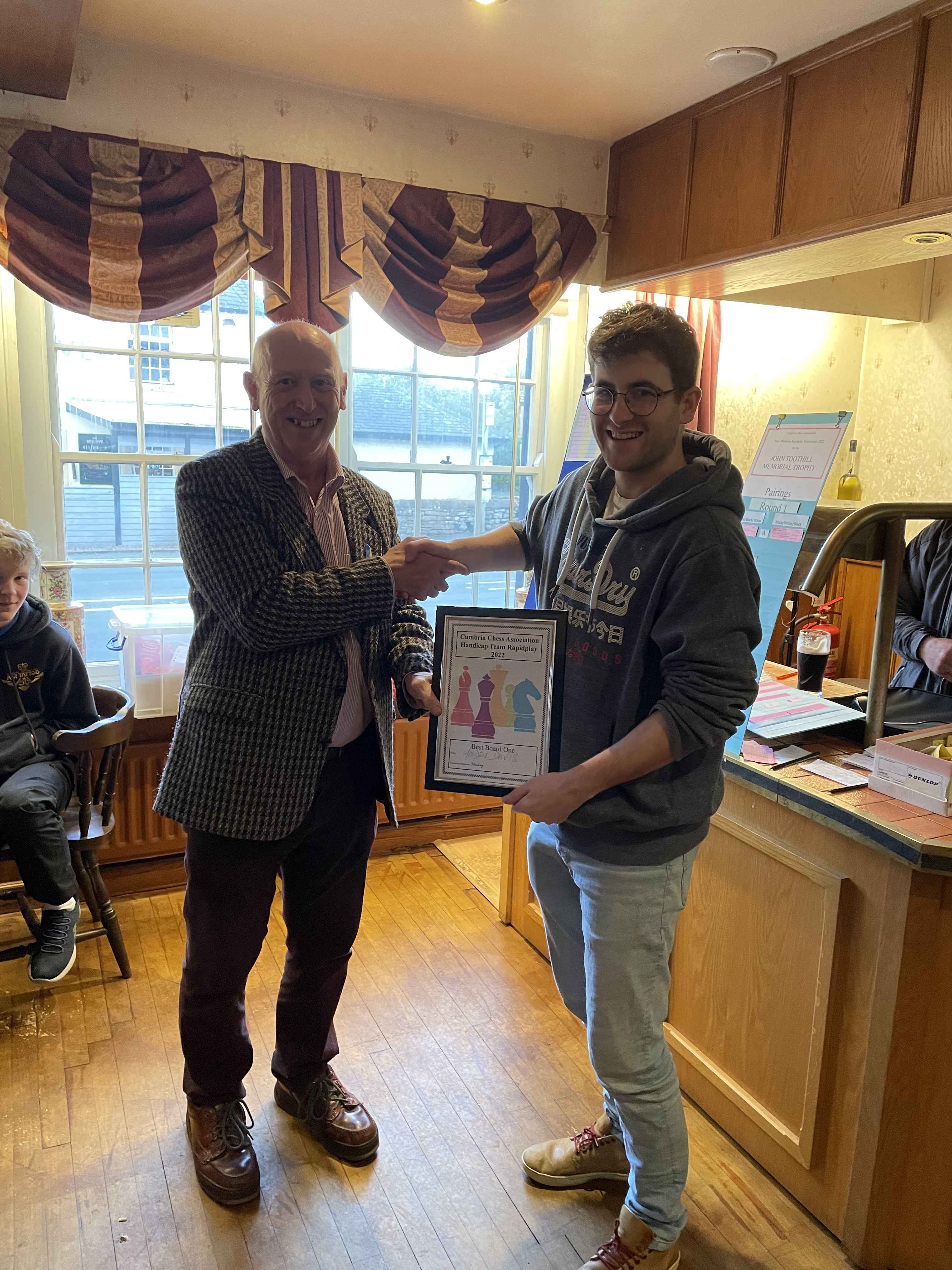 All in all, despite some conspicuous absences, in was a very enjoyable day and thanks go to Peter Hanks for all his hard work in organising and creating the trophy and awards and of course many thanks to Mike and Anna of the Crown for allowing us to cut short their shopping trip and to take over their dining room for the day.


..............Andy.



The results can be seen here.
---
12th October
2022

Junior Tournament
A report from .
John Lydon -
Children from 6 to 17 in age, and from Carlisle to Ulverston in geography participated.
The tournament was in 2 sections, Under 18 and Under 13.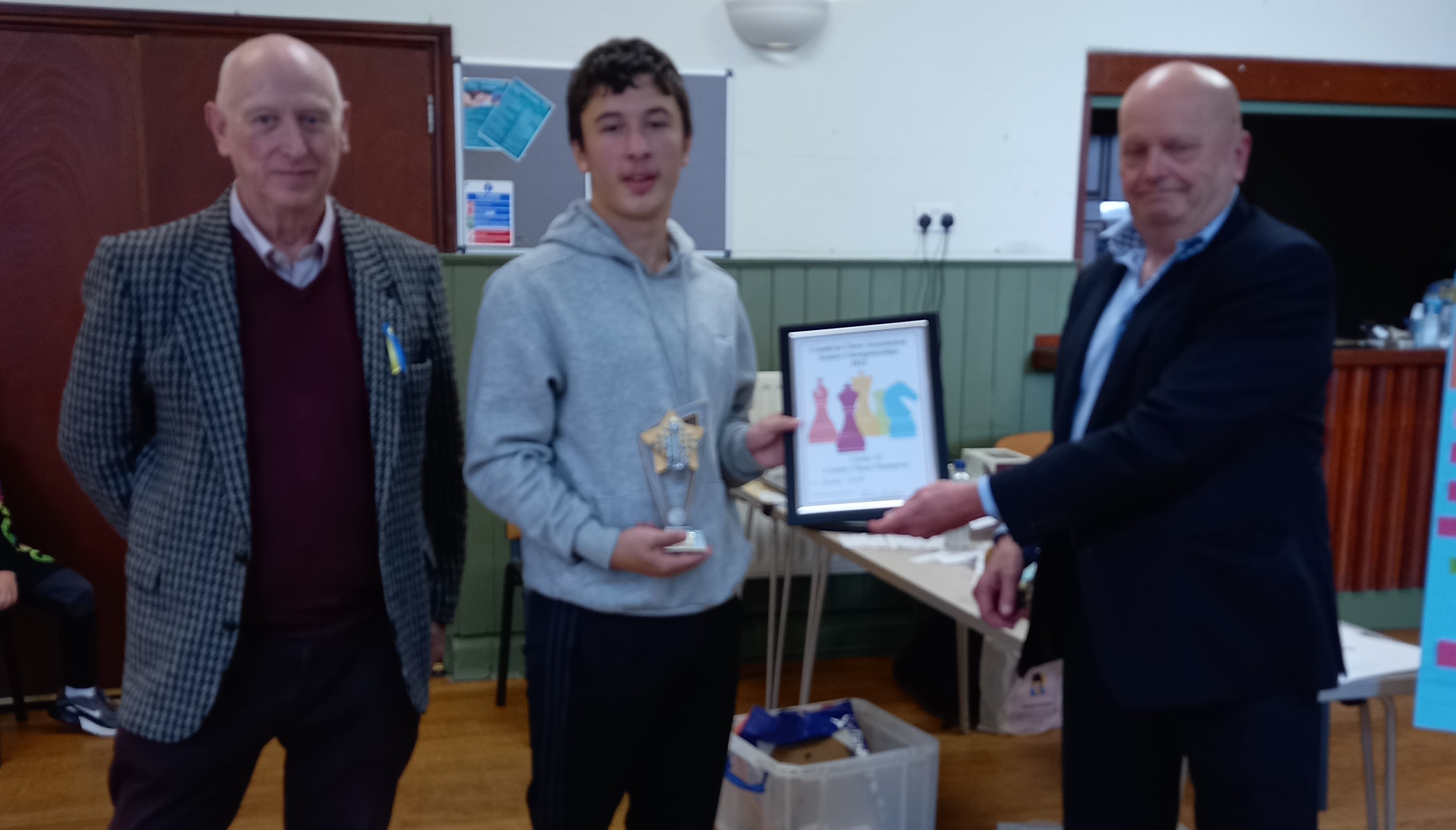 Andrei Carp became the Cumbria Junior Chess Champion, winning the Under 18 section with a perfect 7/7 score. Cooper Richardson was the Runner Up with 6/7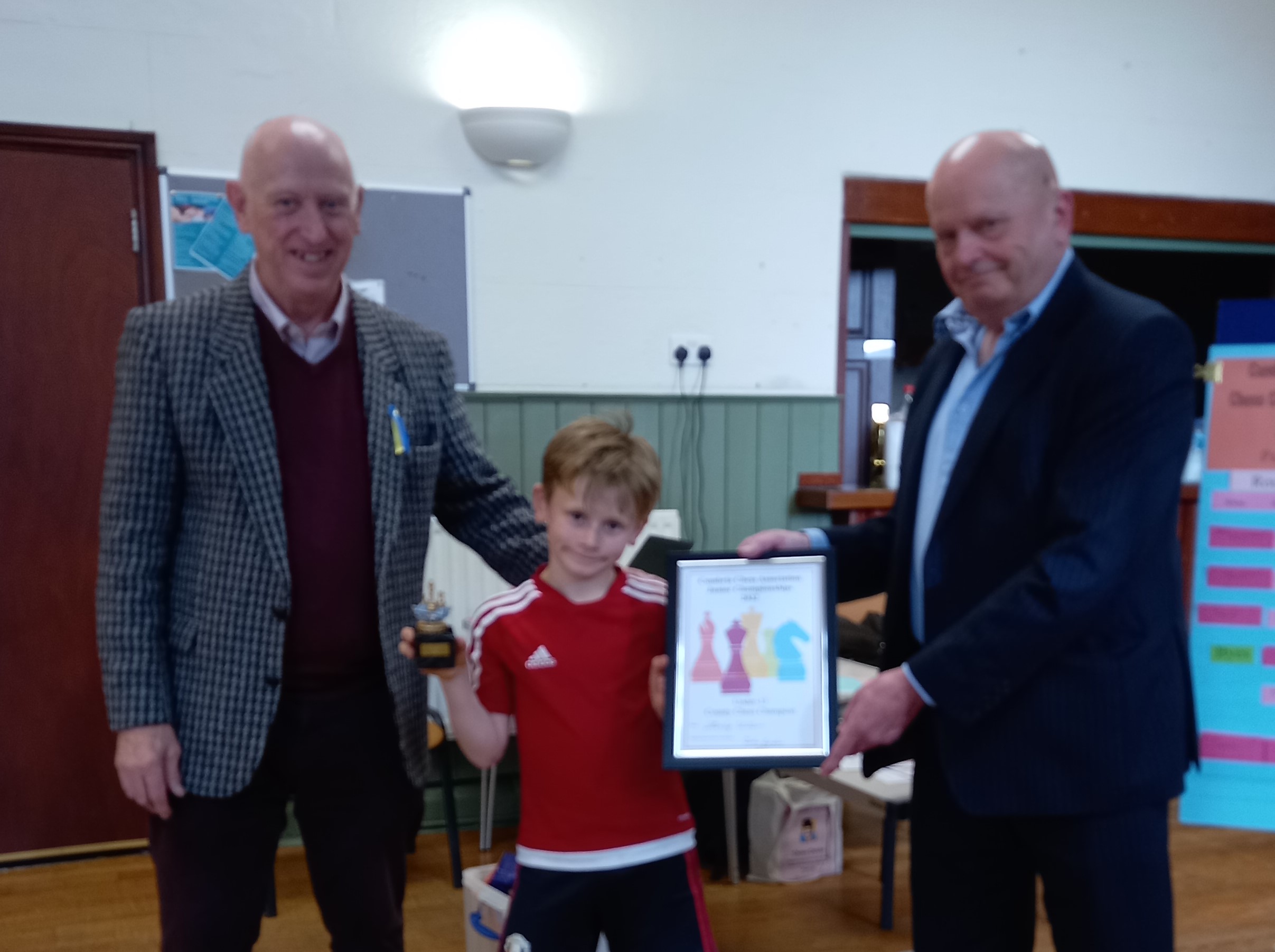 Stanley Wilson, at the age of 7 became the Under 13 Cumbria chess Champion. Stanley also achieved a perfect 7/7 score. Aaron Richardson was the runner up with 6/7
All players received certificates of attendance, with other certificates being awarded for highest finishers from different ages.
Congratulations to Andrei and Stanley.
A full report can be read here.
Many thanks
John

---
6
th
October 2022

CCA Membership Form 2022-23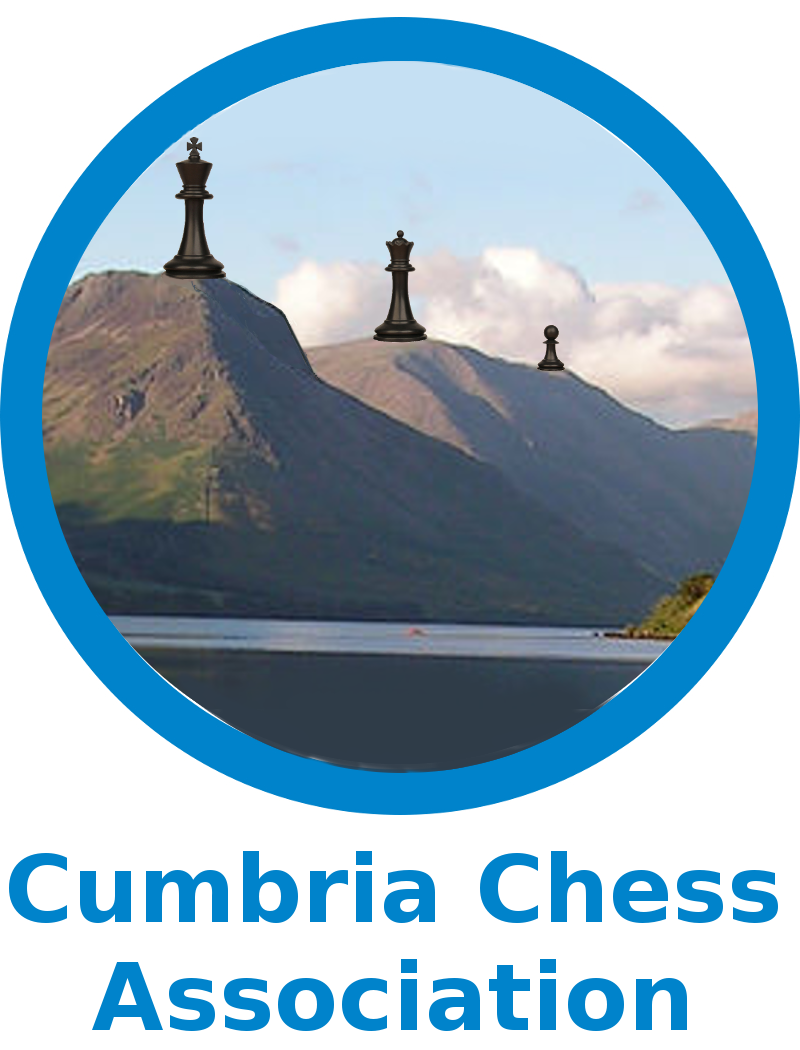 Its time to renew Cumbria Chess Association membership.
Also your ECF membership if you havn't done so yet.
This year's form is
here
.
---
29th
September 2022

Team Rapid Play 22nd October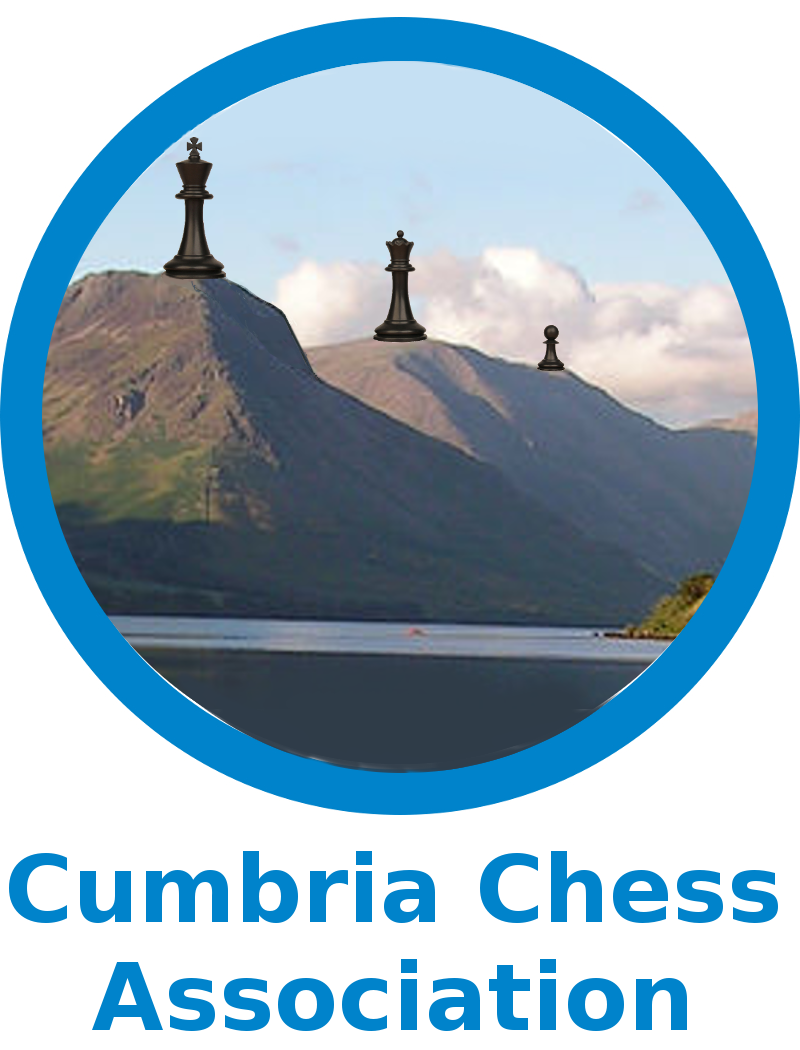 A One Day 5 Round Swiss Chess Rapid Play Team Championship will be held on Saturday 22nd October 2022 at The Crown Hotel, Eamont Bridge. Details and entry form are
here
.
---
18th
September 2022

Whitaker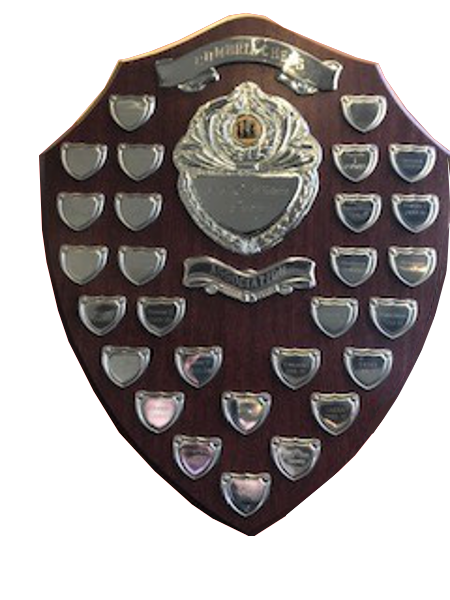 The draw for the Whitaker has taken place and can be seen on the
Whitaker Page
.
Note - the draw was done in a purely random manner with the assistance of Andy McAtear.
---
9
th
September 2022
Ulverston's Charter Festival Postponed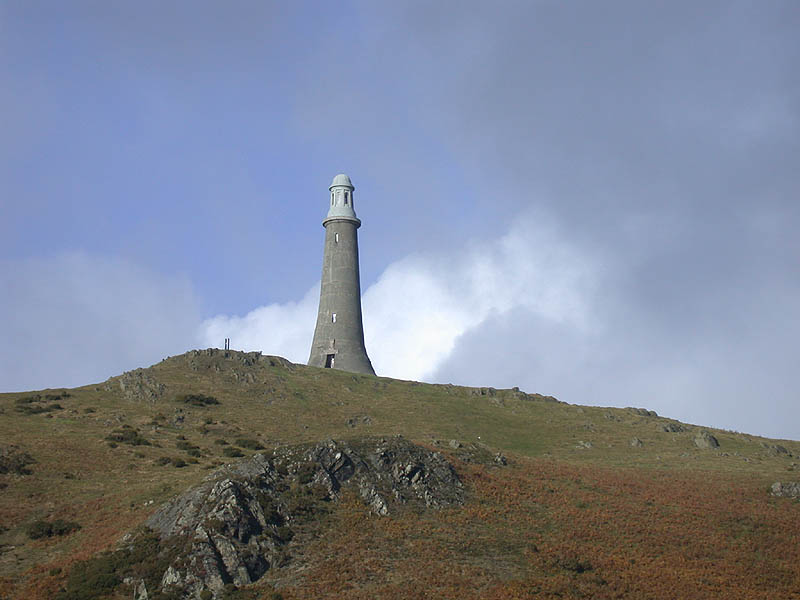 Dear All
Unfortunately, tomorrow's street chess event has been postponed due to the period of national mourning. I will contact you again when we have a new date.
Best Wishes
Hanksy

---
8
th
September 2022
Ulverston's Charter Festival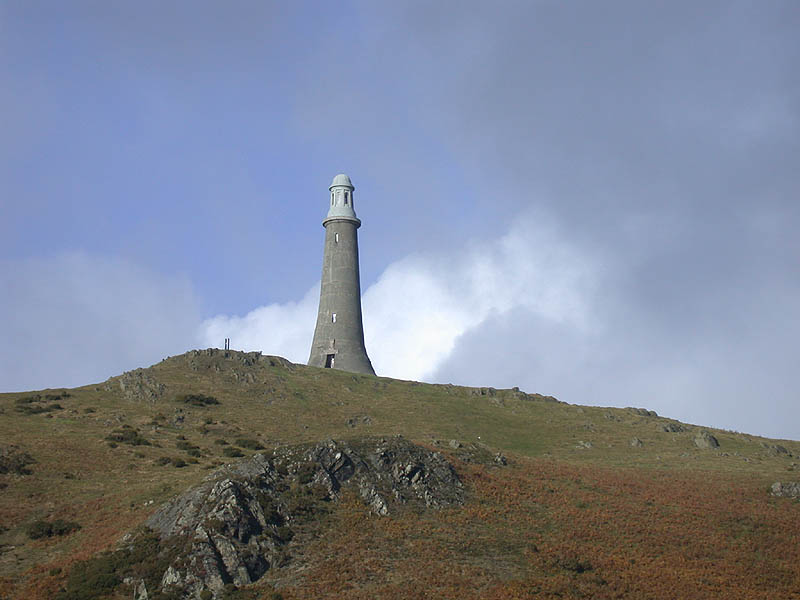 Hello Everyone
On Saturday September 10th we have been invited to be part of Ulverston's Charter Festival and asked to play outdoor chess. We have three large outdoor chess sets and we have been given a gazebo on New Market Street.
The event is between 10:30 and 3pm so please come along when you can and encourage members of the public to play.

Regards,
Hanksy
---
6th
September 2022
Guardian Article


Note from Dave Cole
Dave;
This is an interesting article in today's Guardian – you may want to put the link on the site.
https://www.theguardian.com/commentisfree/2022/sep/05/online-chess-addiction-ruining-life
Cheers,
Dave
Are you saying we should give up online chess ? Good Idea !
---
3rd
September 2022

South Fixtures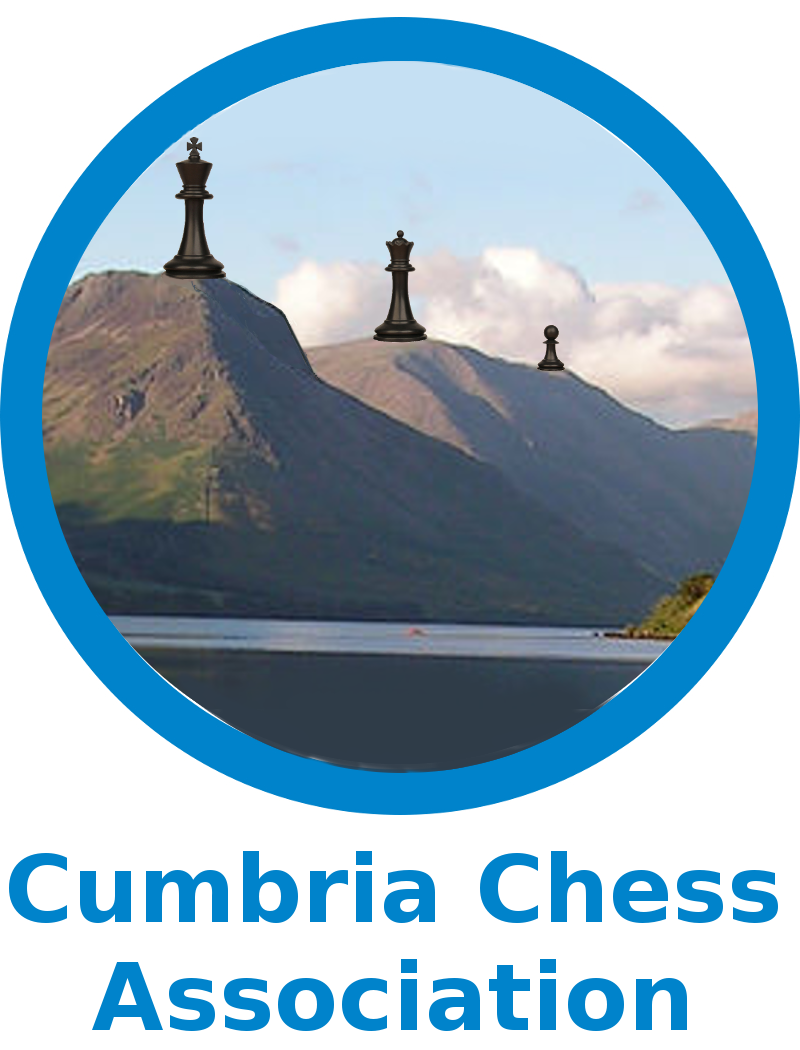 Fixtures for the South League are done. They can be seen on the
Fixtures Page
.
---
3rd
September 2022

Open Fixtures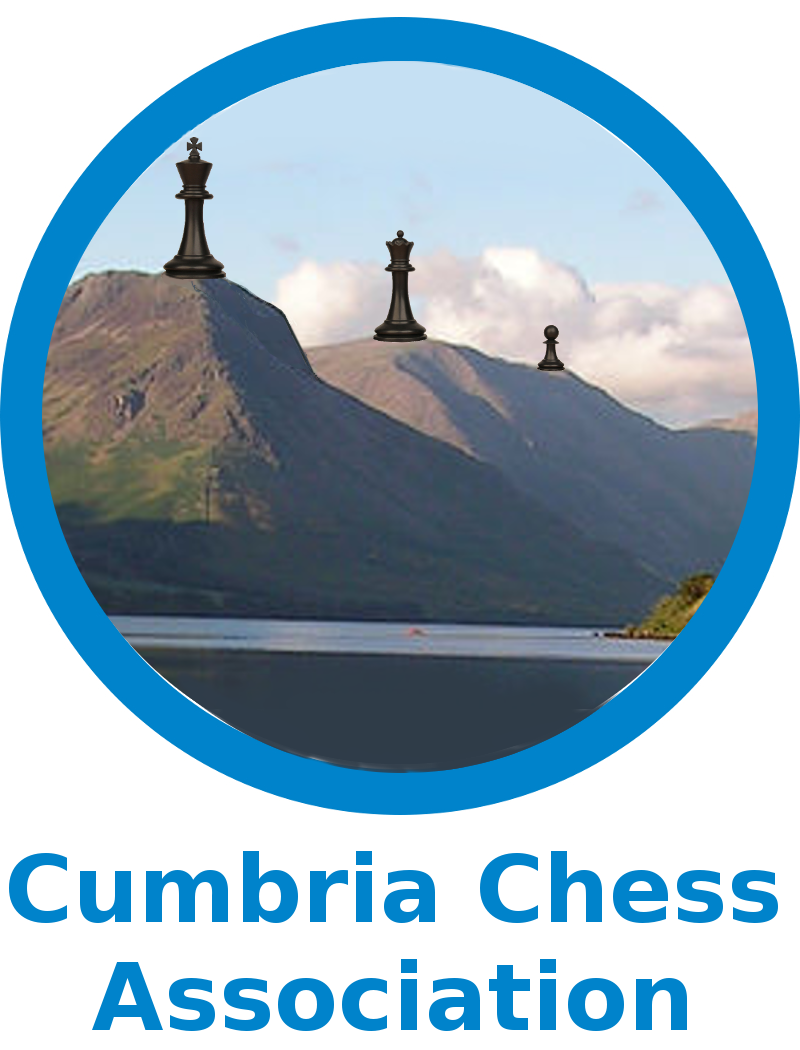 I have produced the fixtures for the Open League. They can be seen on the
Fixtures Page
.
The matches are a simple reversal of last years which makes it fair for the number of home and away games that teams have.
Kendal have a team this year and so they have replaced the 'Bye 1' position of the fixtures. Windermere have been replaced by 'Bye 1'.
There are 2 'Bye teams' which allows for the easy addition of any extra teams.
---
1st
September 2022

Junior Tournament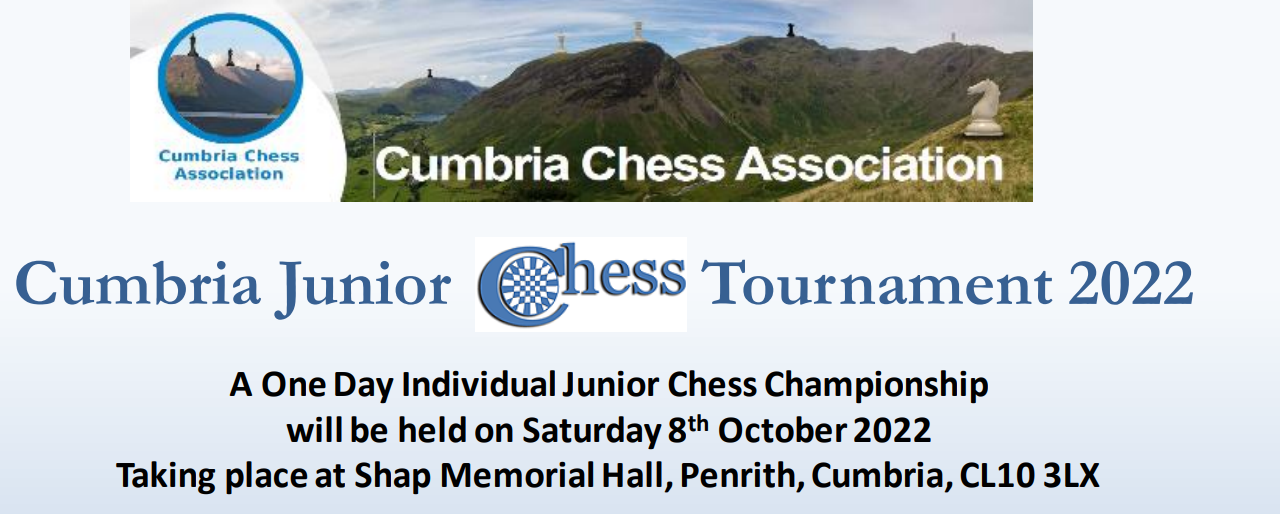 Details and the Entry Form can be seen
here
.
---
22nd
August 2022

Junior Tournament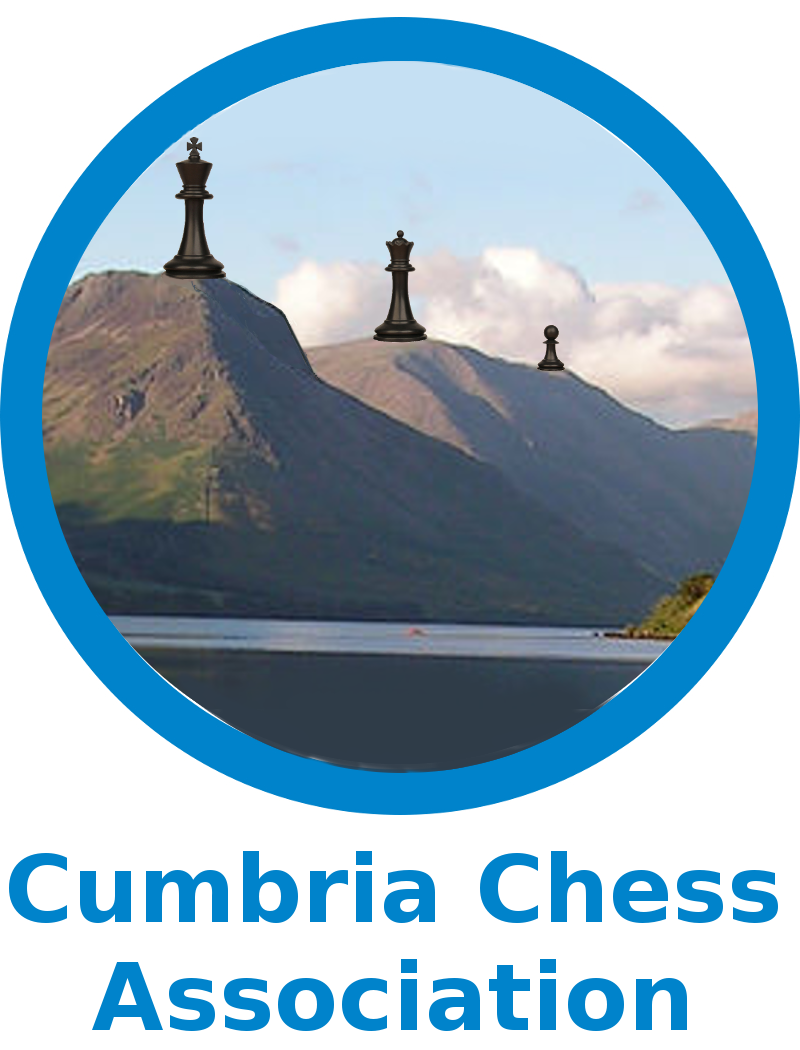 News has just come in of a Junior Tournament.
Date 8th Oct
Time 10:00-17:30
Entry fee £5
Entries to be in by the 1st Oct
Entries after the 1st to incur an extra £1 late charge
John Lydon ( john_lydon@yahoo.com ) is organising it.
I will publish the Entry Form when I receive one.
---
22nd
July 2022

AGM
2022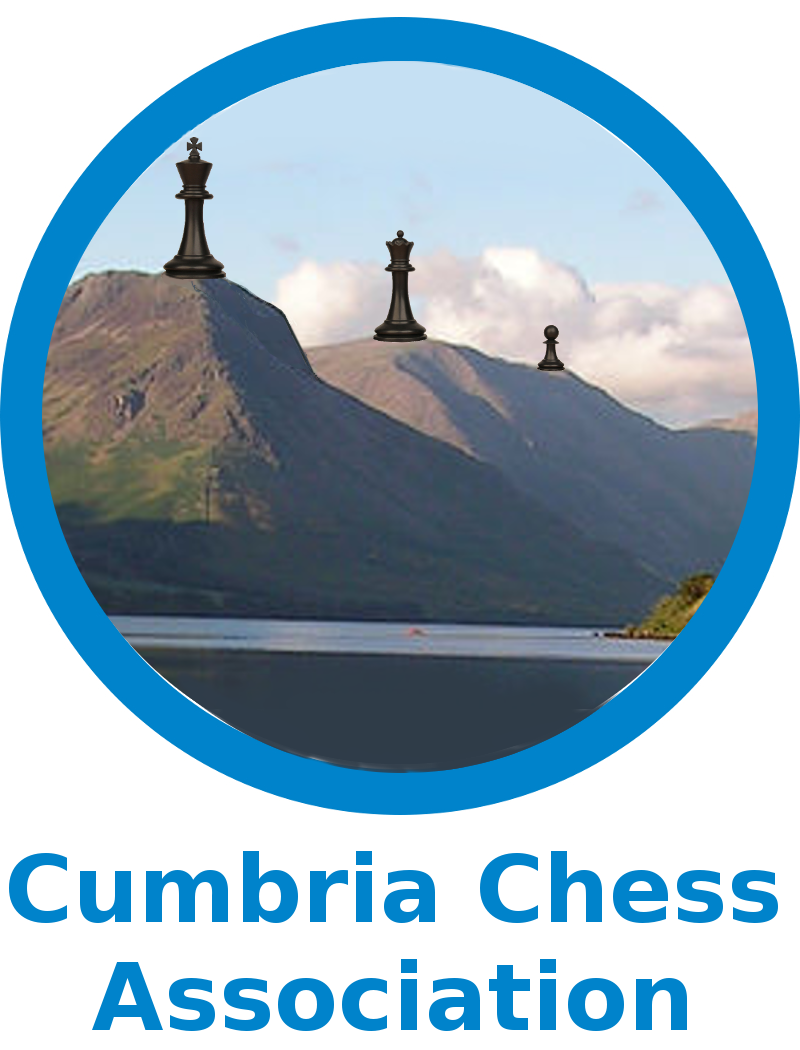 Following the AGM on 7th July, here are the Minutes of the meeting together with the Constitution updated for the changes in rules made at the meeting.
Both of these documents are also available on the Library Page and the Archives Page.
As a very brief summary here are the outcomes of the 3 proposals that were discussed.

Proposal 1 was supported. In future all match arrangements should be carried out via email to provide a documented trail for the League Controller in the event of disagreement between captains or him being required to default a team.
Proposal 2 was rejected. The meeting agreed to retain the existing wording with matches being played within 4 weeks and 2 days of the stated fixture date. Applies to the Open League, South League, and the Whitaker.
Proposal 3 was supported. The League Controller is empowered to remove teams from the League if they default on two matches using the definition of default used in the Proposal.
All correspondence between team captains is to be by email. This provides documentation in case of any disputes. The League Controller should be cc'd.
The time limit for matches is as it was pre-covid. This is to be enforced. It may seem harsh if clubs cannot raise a full team, or even their best team. This means we will have all matches played thus providing real incentive to do well in the leagues and Whitaker.
If a match is not played within the time limit of 4 weeks and 2 days one of the teams WILL be defaulted. If any team defaults twice they will be removed from the applicable league and all results removed. If a team has less than the 3 players it is simply a board(s) default - NOT a team defailt.
---
17th
July 2022


Games Page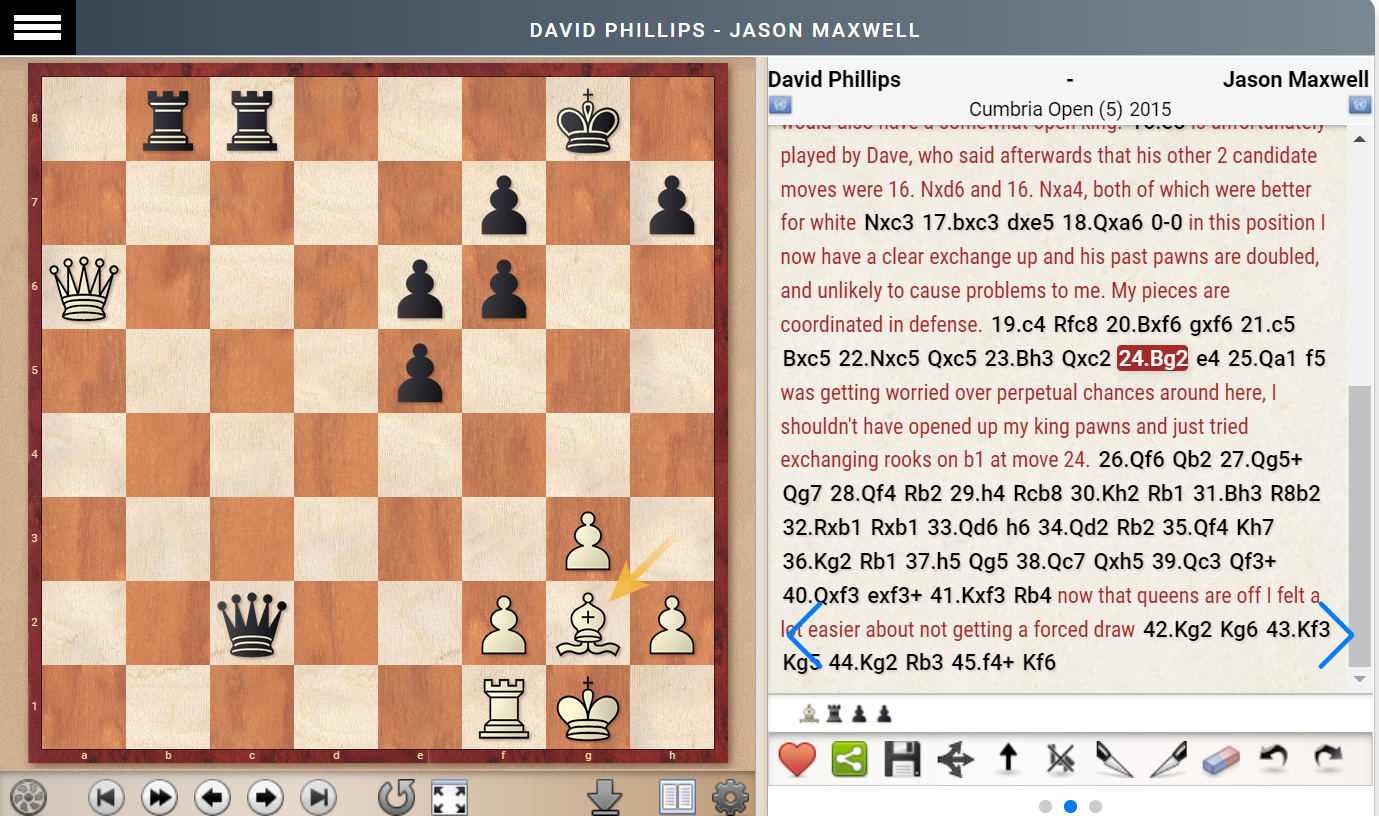 Hello, I have resurrected the
Games Page
.
It uses Chessbase software and supplies a lot of utilities like Engines and Openings database. So please supply any games preferably with notes.
---
13th
July 2022
NCCU North v South Match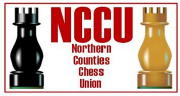 Message from Tim Wall - dent
Hi folks,
Following on from the success of the online North v South Challenge match in September 2020, which the North won 60.5-46.5, I have proposed to ECF Counties Championship Controller Mark Murrell that there be an over-the-board North v South Challenge later this year.
There are various options for a venue, including one in the North (eg Leeds or Manchester), a neutral one in the Midlands (eg Birmingham) or in the south (eg London).
If the event takes place annually, the venue could rotate between North, neutral and South.
I believe this contest could be a great way to galvanise support for chess in the North, and I would be happy to help organise it from our side (alongside other county captains).
What do you think? Could you raise players from your counties to support this event?
Could Cumbria players let me know if they are interested in playing in the N v S match by the 12th August so I can report any interest to the NCCU AGM.

Cheers,
Dave
---
24th
June 2022

AGM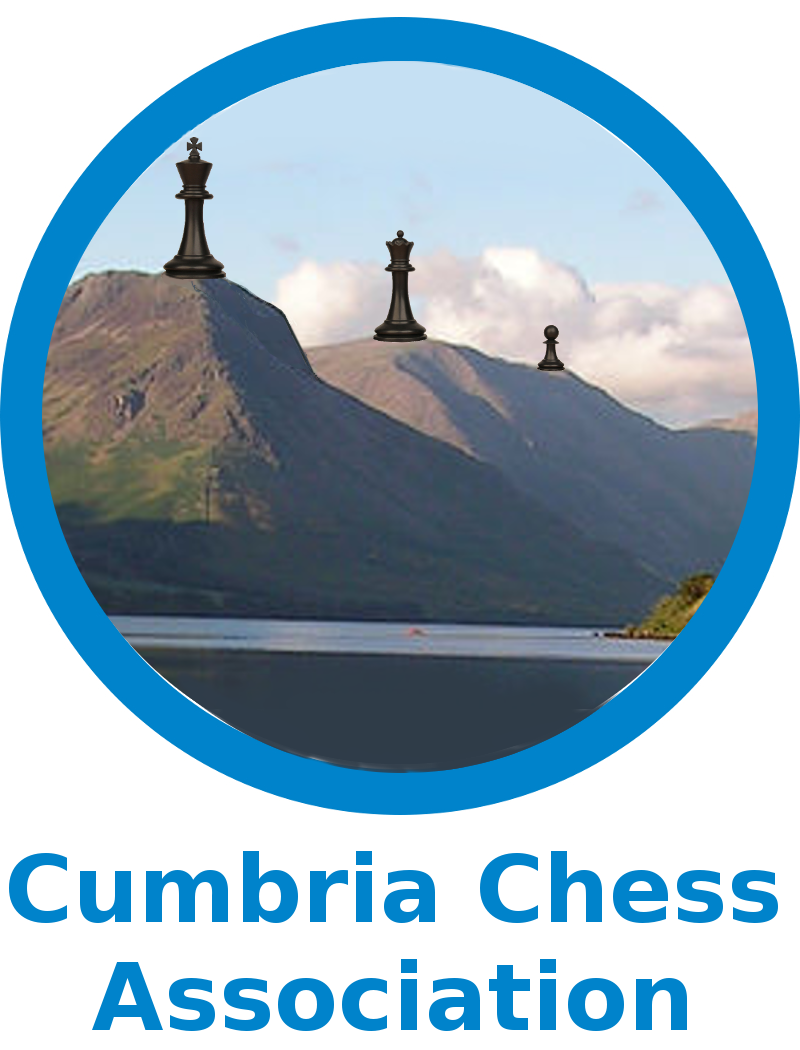 The 130th Cumbria Chess AGM took place yesterday.
As a quick summary the proposals that were voted through are -

All contact between team captains is to be by email.
Matches to be played within 4 weeks and 2 days of the fixture date - as it was pre-covid. Applies to Open League, South League, and the Whitaker.
If a team defaults a match twice they are removed from the applicable league and all their results discounted.
Full details will follow with the Minutes and the new Constitution.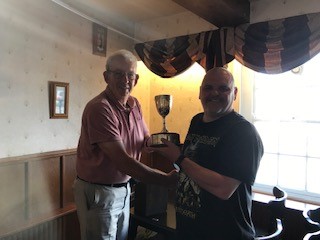 Gary Sharkey receiving the Open Trophy on behalf of Maryport.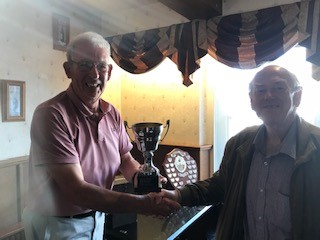 Jonathan Rashleigh receiving the South Trophy on behalf of Kendal
---
6th
July 2022

Whitaker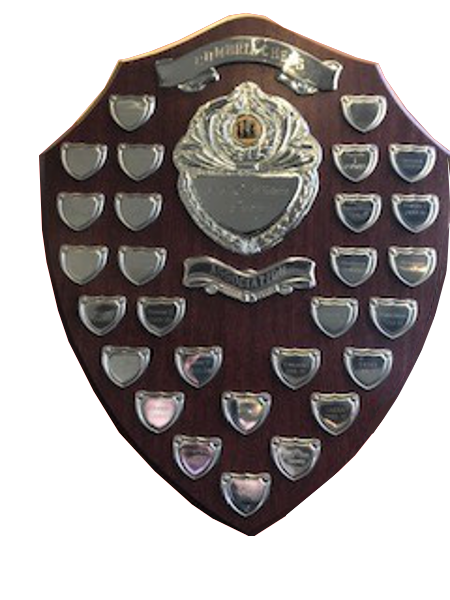 Congratulations to Carlisle B who have defeated Barrow by a narrow margin in the Whitaker Final. See the
Whitaker Page
.
A just result as Carlisle B are the only team to have played every round.
Commiserations for Barrow who have come very close to a trophy for the second time this season.
---
6th
July 2022

AGM
July 9th 2022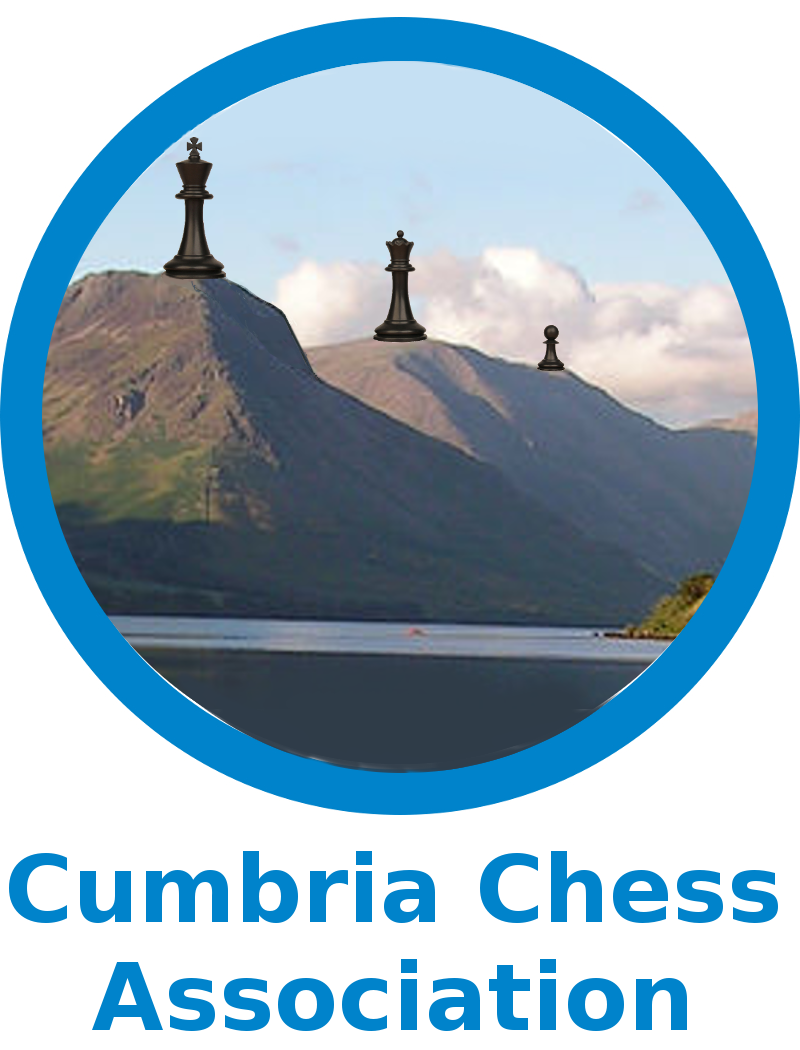 Dave Cole has covid and so he is isolating for a few days. Jonathan is going to chair the meeting as well as performing his usual role as Secretary.
Dave has sent a report for the meeting which is attached here. It is worth a read before the meeting as there is a lot of information included.
Here are the other attachments.
Agenda, Minutes of the last meeting, Proposals, Accounts
Please do your best to attend. We need to decide on the way forward.
---
27th
June 2022

School Chess Tournament


Note from John Lydon, our Junior Organiser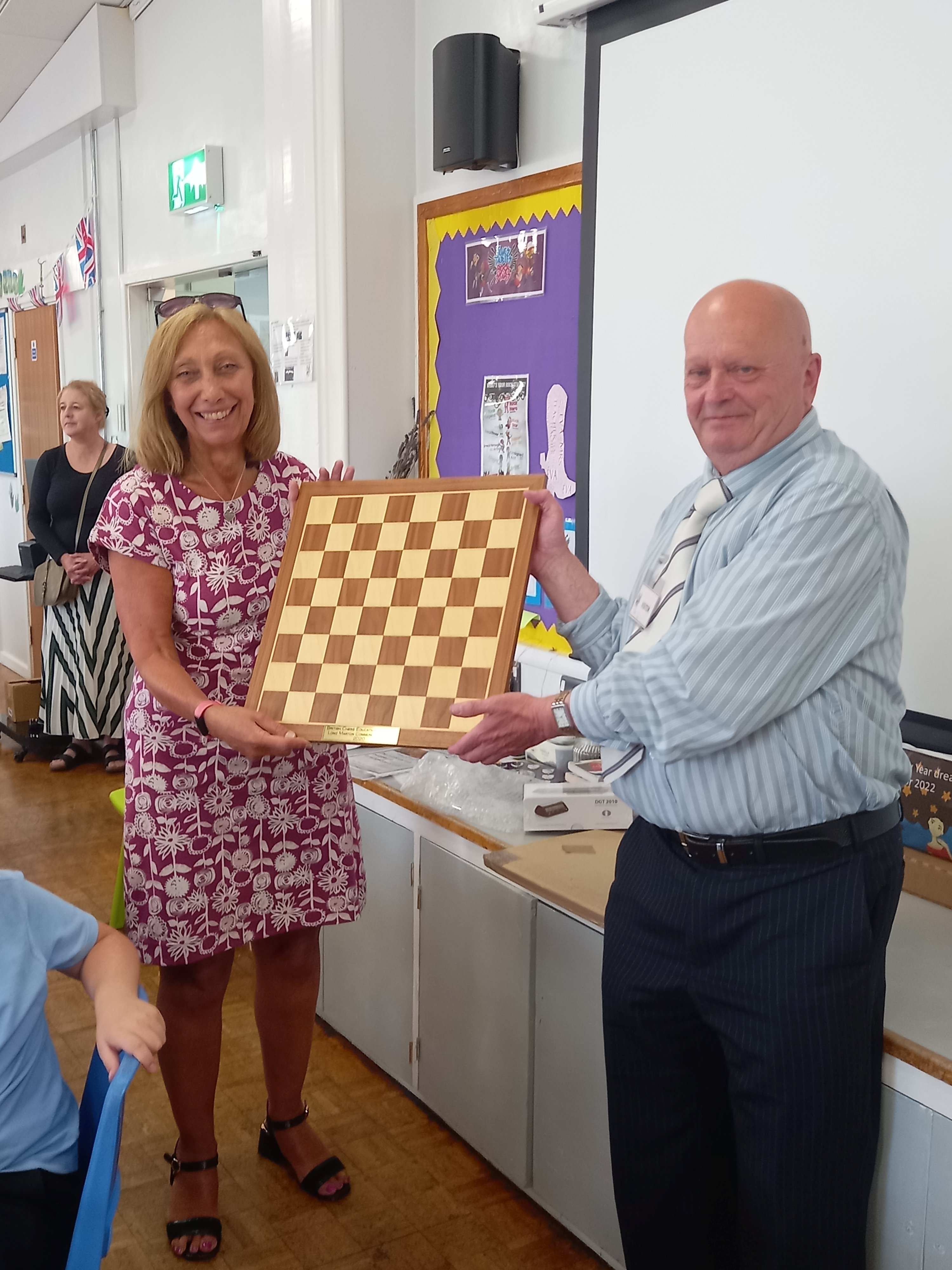 Hello,
Just to let you know that the tournament which Long Marton Community School hosts every year (Pandemics permitting) has returned again.
I attended on Friday the 24th to support the event.
I loaned them some sets from Cumbria Chess, and arranged for some more from Carlisle Chess Club.
Not sure if both of you know this, but 2 years ago the school gained an award (Engraved Board, Chess Set and Chess Clock) from the British Chess Educational Trust.
Due to the pandemic the award has been in my house for that 2 years, but I'm delighted to say that I presented the thoroughly deserved award to the Head Teacher (Rachel Smith) after the tournament (See attached pic).
On a personal note, I'm delighted to say that Hayton Primary School (where I teach kids to play chess) entered a team for the 1st time. They won the team event, and came 1st and 2nd in the individual placements.
I hope to be forwarding some pics of the children, with a request put an article on the web site.
As they are children, that won't happen unless I get parental permission.
Hopefully there will be a follow up.
Many thanks
John
---
24th
June 2022

AGM
July 9th 2022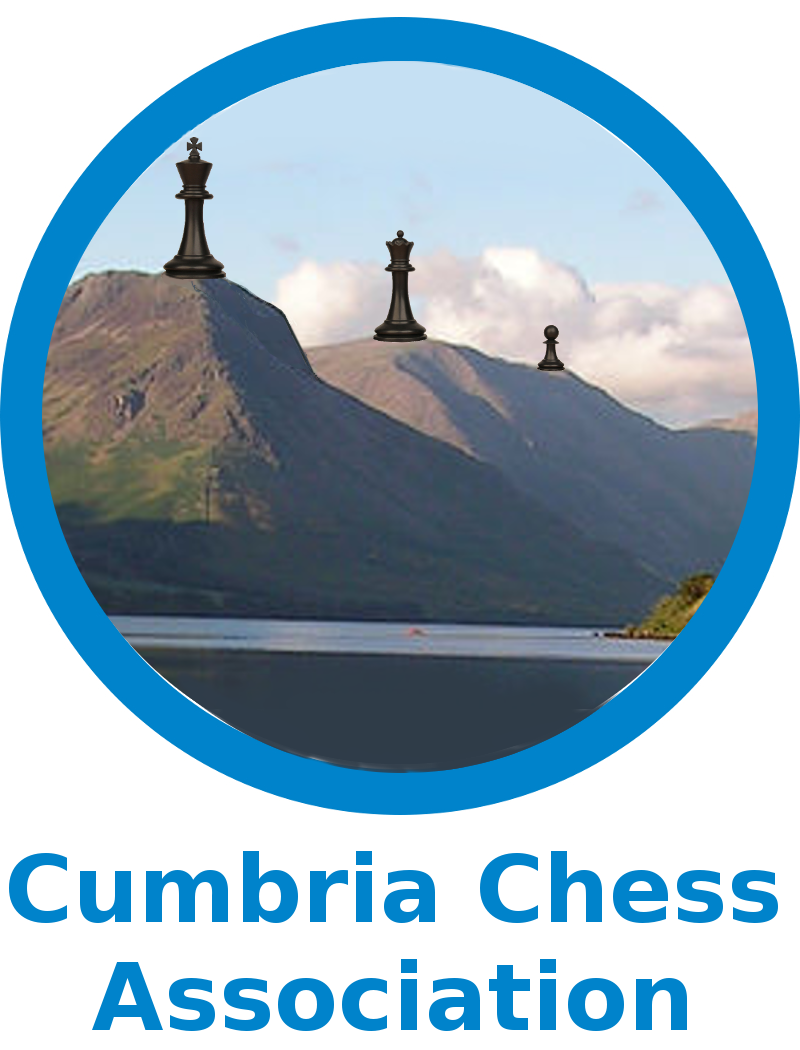 Dear Club Secretaries and Captains
I attach the agenda for this meeting together with the Minutes of the last meeting and proposals for discussion received from David Shaw.
I would ask you to encourage as many of your members as possible to come to the AGM to ensure that we can get the season off to a positive start.
You will recall that last year, to accomodate Covid, teams of 3 rather than 4 were allowed together with much more flexibility around the fixing of dates for matches. There has been no proposal to amend the number of members in a team but the League Controller's proposals seek to tighten up the organisation of match dates. The rules as currently drafted are included in the Constitution which is available on the CCA website.

I look forward to seeing you at the meeting.
Jonathan Rashleigh
---
6th
June 2022

South Lakes Congress 2022


The 24th South Lakes Congress took place this weekend.
A list of the prize winners can be seen here.

The full results are here.
---
21st
May 2022

Cumbria Open League
2022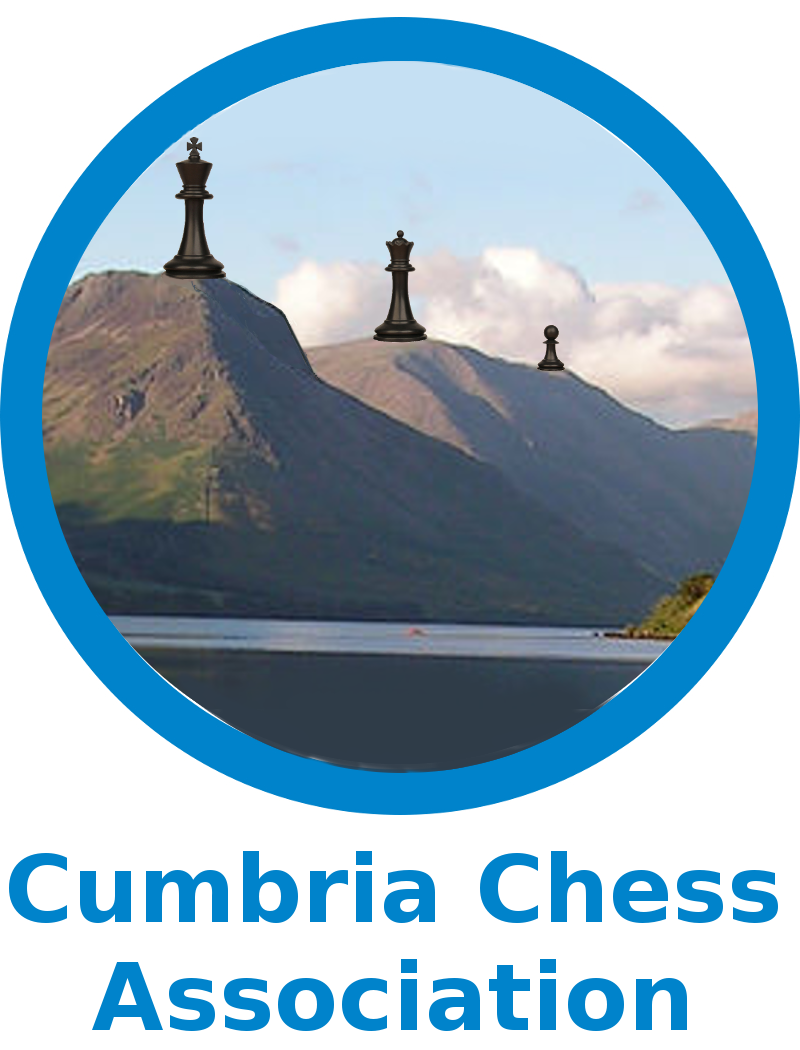 Maryport A have drawn their last game with Barrow and thus have won the Open League for the 2021-22 season.
Many congratulations.
What a wonderful achievment for Maryport A !
A very close finish. Barrow could have won it yesterday.
---
21st
May 2022

AGM
July 9th 2022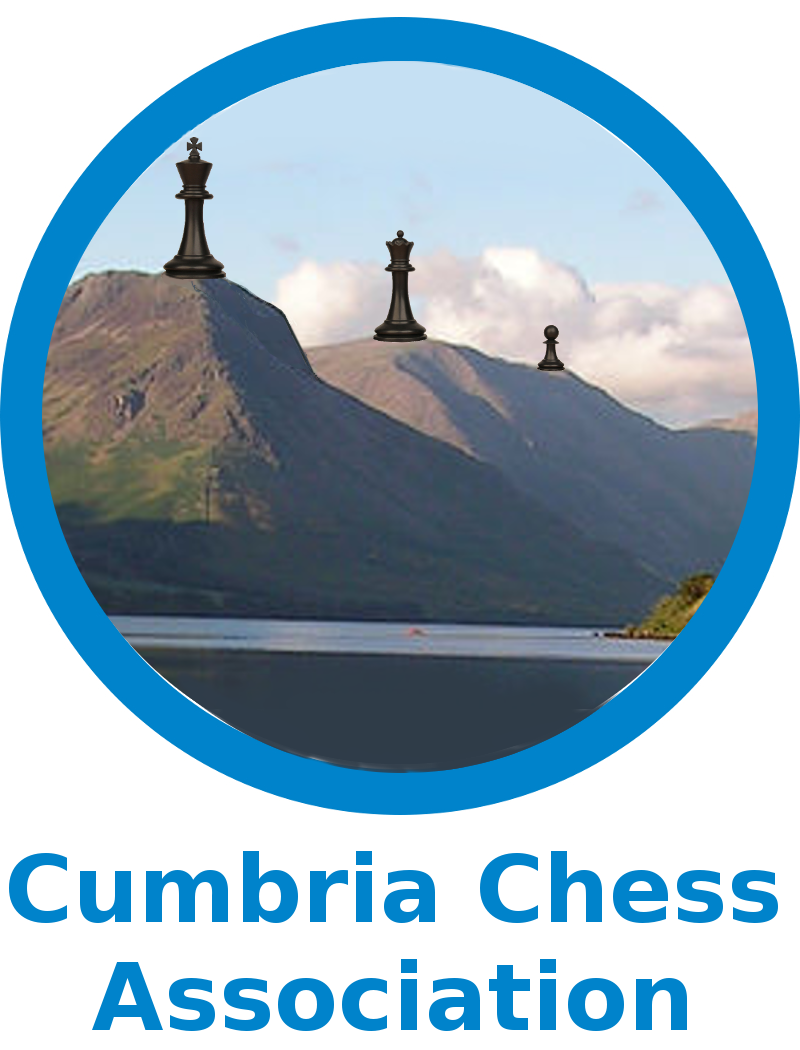 Dear Club Secretaries & Officers

The next annual general meeting of the Cumbria Chess Association will be held on Saturday 9th July. Subject to final confirmation, it will be held at the Crown at Eamont Bridge starting at 2pm.



The impact of Covid haunted last season with quite a few matches not played despite the reduction in team size and the increased flexibility around fixture dates. Hopefully this will not be a factor next Winter and it is therefore important that all clubs join in discussion of what they want out of league and cub chess and what rules should apply so that there can be a full and enjoyable season ahead. As always, it is important that all clubs be represented at the meeting.



As required by the Constitution, I will send out an agenda at least two weeks before the meeting and would be grateful if, before then, you could give me any items or proposals that you would like to be included.



Best wishes
Jonathan Rashleigh

---
18th
May 2022
Lancaster One Day Rapidplay 18th June 2022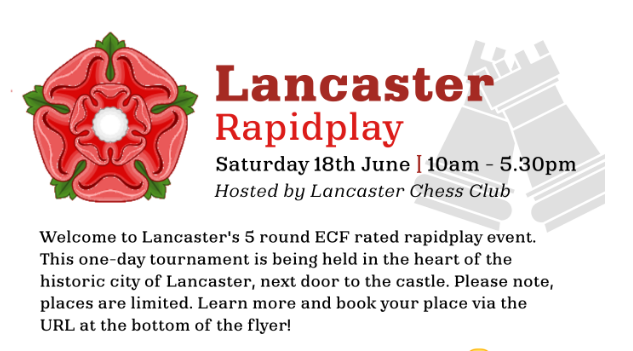 There is to be a one day rapidplay tournament in Lancaster on 18th June. Details can be seen
here.
---
11th
May 2022
NCCU AGM Minutes 2022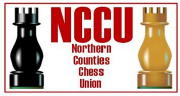 The NCCU AGM minutes from April 2022 can be seen
here
, and on the
Library Page
.
---
10th
May 2022
North East Final of National Youth Chess Championships

Dear North East chess organisers,

I would like to invite juniors from your area, school and chess club to take part in the North East Final of the 1st National Youth Chess Championships.
It is being held on Saturday 28 May, 2022, from 10:00am to 5:00pm at St Mary's Catholic School, Benton Park Road, Newcastle upon Tyne NE7 7PE
I am organising the North East Regional Finals on behalf of the English Junior Coaches and Organisers Association (EJCOA).
Competitors will be organised into several age categories (Under-8, Under-10, Under-12, Under-14, Under-16, Under-18 and Under-20, with ages as of 01/01/2022) and will play five rounds of chess (each player will have 25 minutes to make all their moves, plus 10 seconds per move).
The winning boy and girl in each category will be eligible to compete in the National Finals at Nottingham High School, July 8-10. There will also be trophies and other prizes, to be announced on the day, depending on the number of entries.
To enter the North East Regional Final, go here:
https://ejcoa.co.uk/online-payments/nyc-regional-final

Further details can also be found here:

https://www.englishchess.org.uk/event-calendar/#event=70309544;instance=20220528100000

This is not a school-run event and so St Mary's Catholic School takes no responsibility for admissions or to attend/supervise on the day. The students and their parents are responsible for these things.

Please don't hesitate to get back to me if you have any questions.

Best wishes,
Tim Wall
EJCOA Regional Organiser
Tel: 0750 372 2366
---